In what can only be described as the biggest change ever, today, we're introducing an entirely new system of play for the 2021 year and beyond. Qualifying for the 2021 World Axe Throwing Championship will now be done through a system of Circuit Points that will be awarded for league and tournament play & placings. This announcement is also closely tied to the WATL Pro League announcement.

PLEASE NOTE: To ensure overall fairness and avoid potential changes to qualification mid-year, upon the commencement of Winter League on January 4th no changes will be made to the structure of this system until after the 2021 World Axe Throwing Championship. We will be very open to feedback both leading up to and during 2021 to improve and refine the system for 2022.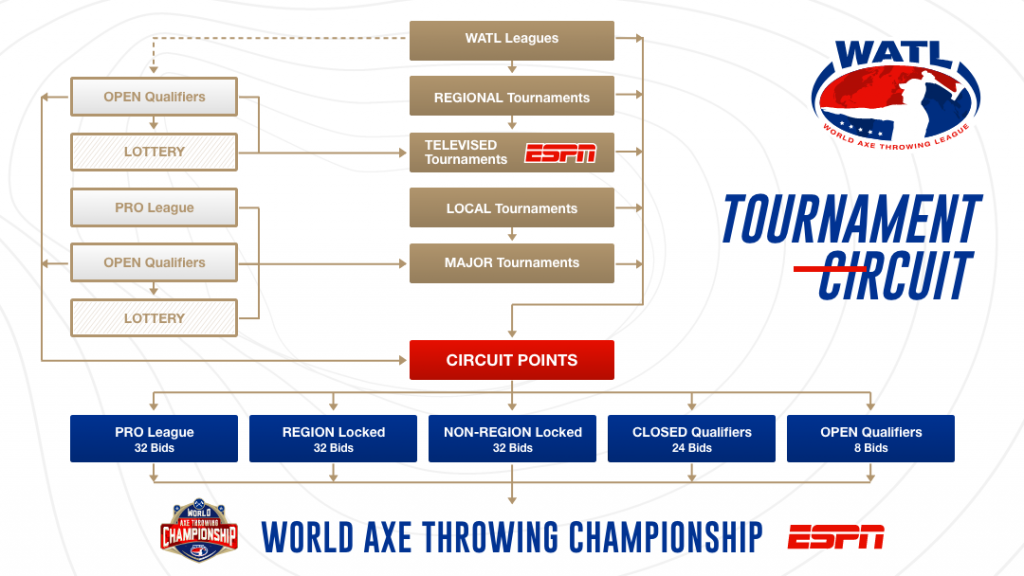 DEFINITIONS
While we aim to increase the quality of competition across the board Major and Televised tournaments will still include an allotment of lottery bids to allow for less experienced WATL members to accrue high level tournament experience.
ALL THE FOLLOWING INFORMATION IS FOR STANDARD HATCHET THROWING AND WILL BE MODIFIED & APPLICABLE FOR BOTH DUALS AND BIG AXE.
Circuit Points: Points awarded for placements in WATL Sanctioned Events including tournaments and leagues. Points vary based on placing and event.

Circuit points will be allotted to individual WATL App accounts, it is the responsibility of the thrower to ensure they are using only a single account across tournaments and venues
Circuit Points ultimately define who will attend the World Axe Throwing Championship

League Tournament: The final week of league in which the local champion is crowned at your venue.
Local Tournament: Any tournament sanctioned by WATL with a prize pool of at least $100 and a minimum of 16 participants
Closed Qualifier: Qualifying throws taking place with predefined entry requirements

The World Axe Throwing Championship Closed Qualifier is open to any throwers in the Top 200 on the Circuit Point leaderboard who have not already secured a bid

Open Qualifier: Qualifying throws taking place in person at a WATL venue with the purpose of qualifying a number of players to Major or Televised Tournament.

Open to anyone that has participated in a WATL Sanctioned League in the preceding year

Exceptions for the 2021 year:

2019 League participation will count towards participation requirement due to limited leagues available in 2020
A WATL venue was open in 2020 but was unable to have enough participants to run a sanctioned league; participants are eligible to participate in Open Qualifiers as long as they live within a 1 hour driving distance to the venue from their primary residence
Participant does not have a WATL venue within a 2 hour driving distance from their primary residence to do their Qualifying Throws

Please see section 5.6 for at-home Qualifying Throws

Open Qualifiers will consist of 50 throws with a mandatory Kill Shot on every 5th and 10th throw & an additional 5 throws which will be all Kill Shots (for tie-breaker purposes)
Venues will set a time to hold their Open Qualifier before the stated deadline
Players inform their local participating venue and must sign up at least 2 weeks in advance of each open qualifier

Players must pay the venue a judging fee of $25 plus any applicable taxes
Venues must pay WATL a qualifier fee of $5/Thrower; inclusive of the $25 total
WATL must place a minimum of 50% of qualifier fees in the main tournament prize pool

Local venues must have at least one WATL Certified Judge on hand to judge throws and collect scores

Any participant found to be scoring themselves will immediately be disqualified from the qualifying competition and be removed from all lottery availability for the remainder of the year

Open Qualifier Rules for those wishing to compete without a participating WATL venue nearby will make their throws at home or at a non-WATL venue:

Must not have a participating WATL venue within a 2 hour drive
Scoring and processing

Intent to participate must be emailed to WATL with 2-6 weeks prior to the event date:

Subject Line: Open Qualifier [Tournament]
Body text: please include your home address including a picture of your driver's license for verification. State your intent to participate in the upcoming Open Qualifier

Upon receiving final video submission, WATL will send a video processing invoice of $25 plus any applicable taxes to be paid in full for scores to be processed
All throws must be recorded in at least 1080p quality and submitted to WATL, [email protected]
Throws must also be streamed live to a Facebook page/group as determined by WATL during a specified time frame

During each throw the thrower and fault line must be visible
Player must show, in their stream, on a secondary device, the as shown on the following website: https://time.is/
Camera must be taken to retrieve axe to show axe scoring on each throw, zooming into each side of the axe to ensure paint is broken on both sides
Any player found intentionally cheating during qualifiers will be immediately suspended for a period of 12 months from any WATL sanctioned event and have any accumulated Circuit Points for the year reset to zero
Players caught abusing the system through multiple submissions or cherry picked throws during marathon sessions will be immediately suspended for a period of 12 months from any WATL sanctioned event and have any accumulated Circuit Points for the year reset to zero

Regional Tournament: A tournament held once quarterly in each WATL region.

Entry Requirements: Open participation for current WATL season members. Exceptions:

Throwers did not have a WATL venue that hosted a league within a 1 hour drive of their primary residence

Circuit Points awarded for the Fall Regional Tournament are doubled
The winner of these tournaments qualify for the following quarter's Televised Tournament.
Location will vary and cannot occur in the same place more than twice per year unless otherwise specified
Will rotate to different locations within the region each season
Throwers not expected to attend each one
Venues will bid for tournaments or be assigned them
Players are allowed to compete across regional lines if desired
Minimum 50% of ticket sales required for payout

Major Tournament: Any tournament sanctioned by WATL with a minimum prize pool of $5000 and at least 64 competitors (Venues are encouraged to collaborate with other neighboring venues to reach requirements if interested)

Types of entries are allotted on a case by case basis with help from WATL
Unlimited lottery entry bids based on desired tournament size – less any Pro League requested entry spots from lottery entry bids.
Up to 16 entries reserved for Sanctioned Local Tournament Victories
At minimum 32 entries reserved for Open Qualifier Spots

Televised Tournament: are defined as ESPN/televised tournaments with a minimum of 128 competitors. If Tournament size is increased, the number of allocations will be determined & clarified at WATL's discretion.

16 Entries (Top 16) From Previous Televised Tournament

Top 16 from WATC invited to Canadian Open
Top 16 from Canadian Open invited to US Open

8 Entries From Regional Tournament Victories From Previous Season

Winter winners obtain Canadian Open Entry bids, Spring winners obtain US Open Entry bids, Summer winners obtain WATC Closed Qualifier entry bids

If any regional tournaments do not occur bids are converted to additional lottery bids
Any declined Regional Tournament bids are converted to additional lottery bids

64 Entries From Open Qualifiers
40 Entries From Lottery

30 Lotto Entries from Open Qualifiers
10 Lotto Entries from General Draw

World Axe Throwing Championship

32 WATL Pro League Bids (8 Per Season)
32 Region Locked Bids via Circuit Points

Each region's top players by allotment will receive World Championship bids. For example, the Midwest region will have their top 4 Circuit Point leaders receive bids for WATC. The break down by regions is as follows:

East: 6
North: 6
Atlantic: 4
South: 4
Midwest: 4
Pacific: 3
Mountain: 3
Global: 2

32 Non-Region Locked Bids via Circuit Points: Top 32 players in Circuit points that have not already qualified through the above regions
32 Non-Region Locked Bids via Qualifying Throws

Closed Qualifiers: 24 Bids will be reserved for Closed Qualifying Throws for the highest scores from throwers with Circuit Point rankings in the Top 200 that participate in the Closed Qualifying throws.
Open Qualifiers: 8 Bids will be reserved for Open Qualifying Throws for those with the Highest Scores from the group of throwers that participate in Open Qualifying Throws that have 10 or more Circuit Points

Seeding for the World Axe Throwing Championship will be awarded based on total Circuit Points for the year

ie. The person with the most circuit points will be given the highest seed in the tournament

WATL Pro League

Pros will be governed by the WATL Pro League Rules
WATL 2021 REGIONS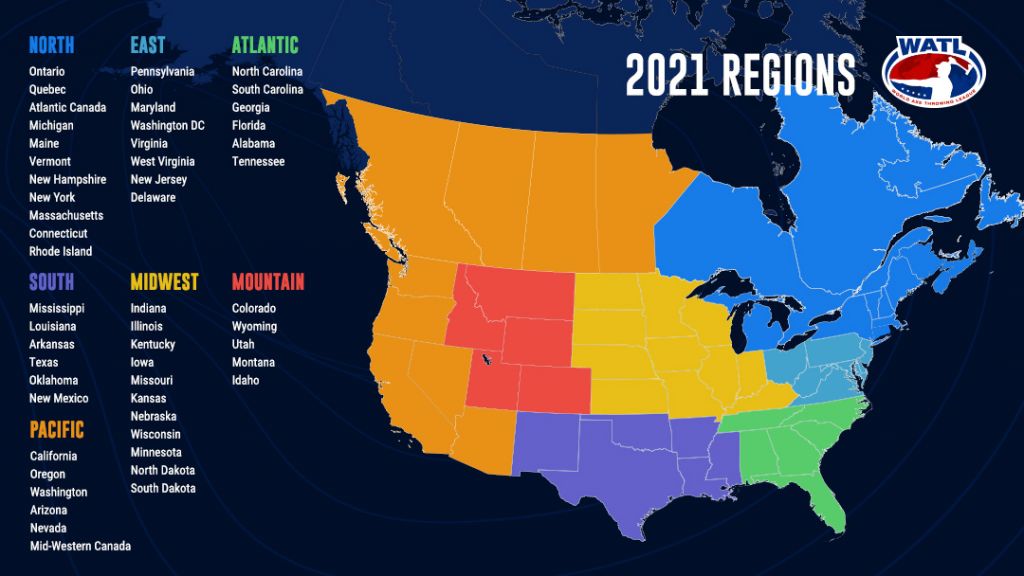 THE WATL GLOBAL REGION INCLUDES ALL COUNTRIES OUTSIDE THE USA AND CANADA
MAJOR DATES FOR 2021
Regional Tournament Dates:
Winter League Regional Tournaments March 6th-7th
Spring League Regional Tournaments May 29th-30th
Summer League Regional Tournaments August 21st – 22nd
Fall League Regional Tournaments November 13th-14th
Televised Tournament Dates:
Canadian Open April 30th-May 2nd
US Open September 3rd-5th
WATC December 10th-13th
Major Tournament Dates:
To Be Determined as venues submit proposals
Open Qualifier Dates:
Canadian Open: Scores Due January 17th
US Open: Scores Due May 16th
Lottery Dates:
Canadian Open: January 19th
US Open: May 18th
WATC Cut Off Dates:
Closed Qualifier: Scores Due October 3rd
Open Qualifier: Scores Due October 3rd
Winter League Key Dates:
Winter League January 4th – February 28th
Winter League Finals February 22nd – February 28th
Winter League Regional Tournaments March 6th-7th
Spring League Key Dates:
Spring League March 29th – May 23rd
Spring League Finals May 17th – 23rd
Spring League Regional Tournaments May 29th-30th
Summer League Key Dates:
Summer League June 21st – August 15th
Summer League Finals August 9th – 15th
Summer League Regional Tournaments August 21st – 22nd
Fall League Key Dates:
Fall League September 13th – November 7th
Fall League Finals November 1st – 7th
Fall League Regional Tournaments November 13th-14th
CIRCUIT POINT DISTRIBUTION
Televised Tournament – 15,000 Points:
1st – 4850
2nd – 3000
3rd – 2100
4th – 1350
5-6th – 900
7-8th – 450
9-12th – 150
13-16th – 100
Major Tournament – 5000 Points:
1st – 1650
2nd – 1000
3rd – 700
4th – 450
5-6th – 300
7-8th – 150
9-12th – 50
13-16th – 25
Regional Tournament – 1000 Points:
1st – 400
2nd – 200
3rd – 150
4th – 100
5-6th – 50
7-8th – 25
Televised or Major Open Qualifiers – 250 Points:
1st – 150
2nd – 50
3rd – 50
Local Tournament – 20 Points:
Seasonal Leaderboard – 35,500 Points:
1st – 7150
2nd – 5250
3rd – 3000
4-10th – 1050
11-20th – 300
21-30th – 150
31-50th – 100
51-100th – 75
101-200th – 25
Seasonal League Points:
League Victory – 50 Points
League Runner Up – 25 Points
League Participation – 5 Points