The World Axe Throwing League is proud to showcase our Certified Judges! WATL Certified Judges are held to the highest standard in understanding and implementing our rules when overseeing sanctioned events such as leagues, tournaments, qualifiers, and more. Certified Judges allow venues to organize and run these sanctioned events to the highest standards and best practices.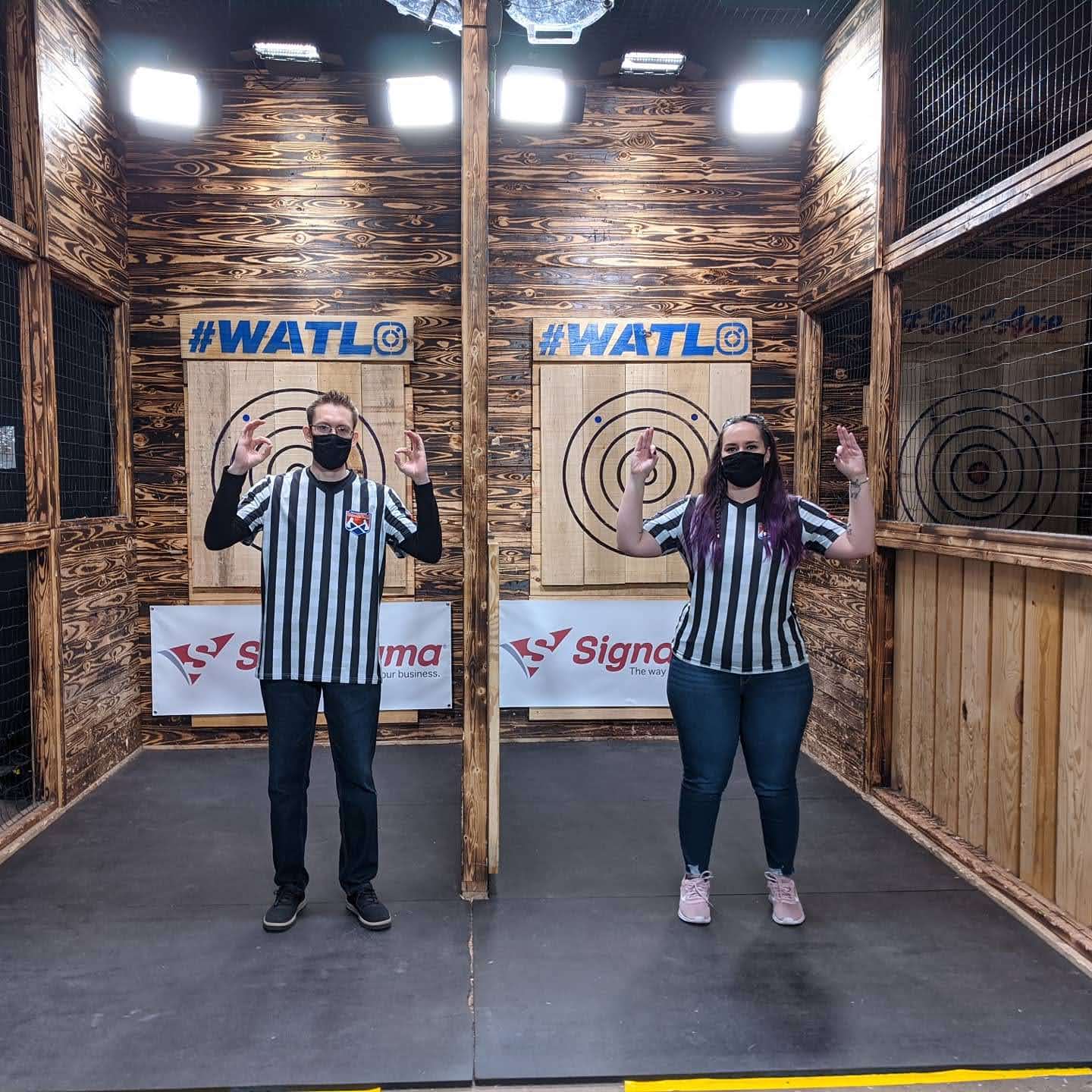 WATL Judges are:
Certified by WATL
Up-to-date with the latest rules & changes
Able to officially run WATL sanctioned Leagues
Have the ability to help in WATL sanctioned Tournaments, including the World Axe Throwing Championship
Have a deep understanding of the rules for:

Standard (Hatchet)
Big Axe
Duals

Can conduct Qualifying Throws (Open & Closed) for Major and Televised Tournaments
Able to renew or up-date the Certified Judge standing in future years when rule changes occur
Serve as a substitute that may assist other venues in hosting Leagues or Tournaments
The full list of WATL Judges:
List updated once quarterly. Current as of December 20, 2022.
Aaron Corbin
Aaron Monath
Abby Demers Evans
Adrian Acebo
Adrienne Dunbar
AJ Wilson
Alex Burkhead
Alex Everson
Alex Gottler
Alexander W. Shipley
Alexanfra Smith
Alicia Kulikowski
Alicja Krzyzanowska
Alison Fawthrop
Allison Cook
Alon Shahak
Amaya Allen
Amy Doane
Amy Holzgrafe
Andre Jokiel
Andrew Levi Westbrook
Andrew Lord Wolf
Andrew McCrummen
Andrew Moss
Andreya S. Chapman
Angel Darling
Angela AJ Jenson
Angharad Gladding
Anna Munson
Anthony Ferrari
Anthony Luce
Anthony Tolen
Aria Gianfriddo
Ariana Hayes
Arthur J Jones
Ashley Boles
Ashley Campbell
Ashley Clack
Ashley Kloth
Ashley Stevenson
Ashley Wilkins
Ashly Thompson
Ashlyn Lampela
Austin Bock
Austin Husome
Austin Luecke
Austin Martin
Austin Shepperd
Bailey John Mills
Baltazar Enriquez
Barry Burris
Ben Sawyer
Benjamin Fowler
Benjamin Gaddy
Benjamin Parker
Betsy Chilcoat
Billee Adams
Billy Shaffer
Bob R Smith
Bobbi Collins
Bradley Heath
Bradley S. Combs
Brandi Melanson
Brandon L Johnson
Brandon Pahel
Brandon Prince
Brandon Roque
Brayden Platt
Breanna Humphrey
Brent Killins
Brett Williamson
Brian Griffith
Brittany Austin
Bruce Netto
Bruce Palansky
Bryan Brezina
Bryan Hetrick
Bryan Wilson Jr.
Burgandy Book
Caitlin Blank
Caleb Donalson
Cameron Olier
Carlos Efrain Alosilla Jr.
Carol Graves
Carrie Fink
Cary Brown
Casey Faulkner
Catalina Wiederholt
Catherine Spillman
Cerid Jones
Chad Hicks
Chad Mosbey
Chad R Brown
Charlie Pasquale
Charlie Truex
Cherie McCorvey
Cheryl C Jones
Chester Domoracki
Chris Dalton
Chris Rowland
Christian Larson
Christina Middleton
Christopher Chapman
Christopher Cleveland
Christopher Huften
Christopher Mcpherson
Christopher Sassi
Christopher Senior
Christopher Silvestri
CJ Green
Clayton Fawthrop Male
Cody J Nelson
Colbe Pudell
Cole Estrem
Colin Blyth
Colin J Straub
Colton Lane Askew
Connor Pedersen
Corben Decker
Dakoda Dorsaneo
Dakota Goff
Dan Fisher
Dana Cline
Daniel Basic
Daniel Boudrieau
Daniel Gonzalez
Daniel Lowry
Daniel McNatt
Danielle Maroney
Danny Williams
David A Zlomke
David Eugene Bollman
David Gann
David Harvey
David J Braun
David Kulikowski
David L Cline
David Lowe
David Morris
David W Elliott
Dawn Bueno
Debbie Walton
Delmy Payne
Dennis Cocca
Denton Keltner
Dialyn G B Thelen
Dominique Escarcega
Don Shreve
Dorian Mirasola
Dorothy Winter
Dustin Bernhard
Dustin Kopel
Dustin Leo Lambert
Dustin O Redenius
Elijah Wallace
Ella Campbell
Ellen Turner
Elvis LongRifle
Elysa Matthea A. Franklin
Eric Botterell
Eric Jones
Eric Lemmons
Erika Brynildsen
Erika DiCocco
Erin Henderson
Ernie Wilkins Jr.
Eugie Ott
Faith Harvey
Frank Christmas
Frank Sumner
Gabriel Kruchkow
Garret Hennigan
Garrett Rice
Garrett Stidham
Gary McCartney
Gary Whitaker
Geoff Putney
George Bessey
George Harris
Novan Grey Hoyt
Grant Kramb
Grant Schaab
Grant the Studman Stutzman
Greg Proulx
Gregg "The Warden" Ward
Hagar Goshen
Haleigh Oake Williams
Heather Teichgraeber
Henry Shade Taylor
Ian Ireland
Isabella G. Castellano
Isaiah garcia
Jacob Ligon
Jacob Pidgeon
James David Hoselton
James Hewitt
James Lentz
James Patrick Hernandez
James R Culver
James Ruddy
James Ryan Seaton
James Scargill
James Stephen Bourque II
Jamey Sheppard
Jared Holmes
Jason Anderson
Jason Potts
Jason Yurich
Jave Yoshimoto
Jay Charlebois
Jeb Bisset
Jeff Melton
Jeffery Harrington
Jeffrey Hamilton
Jennifer "Djenni" Kucinski
Jennifer Burdett
Jennifer Weber
Jess Heintz
Jessi Harkins Upshaw
Jessica Bowen
Jessica Hamm
Jessica Lefeavers
Jessica Mullin
Jessica Nolan
Joe Handy
Joe Ritacco
Joe Spence
Joey Kelly
John Binks
John D Doepke
John D. Manning
John Hout
John Price
Jon Dufore
Jon Finzen
Jonathan Qualls
Jose Ruiz
Joseph Flaugher
Joseph Jones
Joseph Kucia
Joseph Miller
Josh Heake
JOSH UNSER
Joshua
Joshua Landreth
Joshua T Diehl
Josiah Oppman
JT AxeCop
JT Malashevich
Justin B Hanson
Justin Gonka
Kacey Jennings
Kandice Michelle Beamish
Kathleen Wiley
Katy McBryde
Keith E Hummel
Keith Jeffery
Keith R. De Silva
Kellan Peteson
Kelly Guetersloh
Kelly Rota
Ken Lank
Kenaniah Saunders
Kendra Kolomyja
Kevin Barker
Kevin Bernal
Kevin Charles Bonanno
Kevin Marshall
Kevin Stewart
Kimberly Rae
Kimberly Rios
Kimberly Salwach
Kirstyn Valencia
Kraemer J Simmonds
Krista Hagen
Krista Mackie
Kristine VannHorne
Kristyn Muller
Kyle Davis
Kyle Durrant
Kyle E Thompson
Kyle Rickenbaugh
Kyle Skal
Kyle Speelman
Landon Seth Brackett
Lanie Suderman
Laura Bauer
Lavonne A Williams
Layne Anthony Punch
Leslie Wellman
Lewis Tedesco
Lisa De La Rosa
Liz Benford
Lloyd Bombell
Logan Scott
Logan Smith
Loretta Lynn Avis
Lorie "[email protected]" Park
Louie Bowen
Madelaine Mathe
Mandy Hinson
Marcee Benoit
Marcia Lozier
Mark Bradley Bloom
Mark Joseph Thomas
Mark Mirasol
Mark Rafael Nolasco
Marley Graham
Martin Baird
Mary Jo Clemens-Harris
Matt Bird
Matt Boles
Matt Densing
Matt Keller
Matthew Bradshaw
Matthew Colavecchia
Matthew Dixon
Matthew Klatt
Matthew Perry
Matthew Smith
Matthew Sylvester
Megan Howard
Melissa Gray
Melissa Parker
Melody Rohaly
Michael Bauer
Michael Arita
Michael B Lewis
Michael C Cook
Michael Citro
Michael Moss
Michael T Percic
Mike Benoit
Mike Day
Mike Mariolle
Mike Miracle
Mike Morton
Mohammad Al-Sheboul
Molly Flynn
Myah Ramos
Neil Rust
Nicholas Bradley
Nicholas Carnes
Nicholas Doane
Nicholas G Wood
Nicholas Gilman
Nicholas Kolomyja
Nicholas Oben
Nicholaus Kozan II
Nick Hayes
Nicole Lynn Kurth
Nicolis L Alexander
Nigel Sakos
Nir Kafri
Noah Doane
Noah Toussaint
Noel A Torres
Olaf N Lee
Patty Fitzgerald
Peyten Harden
Rachel House
Rachel Meade
Raja Nittianandan
Randall Bookamer
Randall Spillman
Randy Hempel
Ray J Siochowicz
Raymond Dales
Rebecca Blackwell
Rebecca Corley
Rebecca F Marsh
Rebecca Richardson
Rhonda Eaton
Richard Carpenter
Richard W Neal
Ricky L Bullard Jr
Ricky Williams
RJ Sumner
Robert James Fields
Robert Keller
Roland Munoz
Ron Hanagan
Ryan Cantara
Ryan Cauley
Ryan Clark
Ryan Gustin
Ryan Vencer
Samuel Arias
Sana Khan
Sara Sawyer
Sarah Christine Cooper
Sarah Comfort
Sarah Hilyard
Sarah Lehman
Sarah Rich
Sarah Sed
Sasha Edwards
Sathia Davidson
Savanah Sheets
Savannah Bearden
Scott Aaron Miller
Scott Emerson Phillips
Scott Melanson
Scott Miller
Sean McNamee
Sean Sears
Seb Hopkins
Sebastian James Hopkins
Serafin Maldonado Jr
Seth Catron
Seth Lishman
Shane Donner
Shane Funke
Shane Grob
Shane Stephens
Shaun L Bill
Shawn C Randall
Shawn Sexton
Shea Wheeler
Sheridan B. Perrin
Sloan Boren
Sloane Johnson
Spencer Showers
Stephanie Foster
Stephanie J. Hoyt
Stephanie King
Stephanie Muller Mozdzierz
Stephen Latza
Stephen Marshburn
Stephen Tyler Arnold
Steven L Petty
Stjepan Richtaritsch
Tabitha Fisher
Tara Qualls
Taylor J Sievert
Ted R Cook Jr
Thomas Antoniello
Thomas Casper
Thomas Corey
Thomas Knoll
Thomas Walker Mathews IV
Tiffany Oakley
Tim Fry
Tim Jeffords
Timothy A Valliere
Timothy Cloutier
Tina Harrington
Tom Clark
Tom Decker
Tom Nelson
Tracie Hahn
Tracy Musick
Travis Blank
Tyler Burns
Tyler Butler
Tyler Pantle
Tyler Roby
Victor Ahluwalia
Victoria Rast
Vin Crescenzo
Vincent Ingallinera
Vincent L. Bryant, Sr.
Vish Hirani
Wesley Smith
William Bates
WillIam McDaniel
William Rivers
Yasmine Cannady
Zach LaVone
Zach Vann
Zackary Masuhara
Interested in becoming a WATL Certified judge too? The program is open to the public! You do not have to be employed at a venue to participate and receive the certification. In order to apply and participate in the WATL Judge Certification program, click on the button below. Our team will send you an invoice for $85 USD; upon payment, we'll then send you a link to complete the Judge Certification Quiz.
Upon successful completion of the quiz, you'll be sent a certificate with your name and date of completion, signifying that you are a WATL Certified Judge. With this certification, you will be able to run and manage sanctioned events as an official who clearly understands the rule sets and expectations of WATL to the highest standard. If you're designated as the official for your leagues, you will have the ability to adjudicate calls for the sanctioned event you are running.