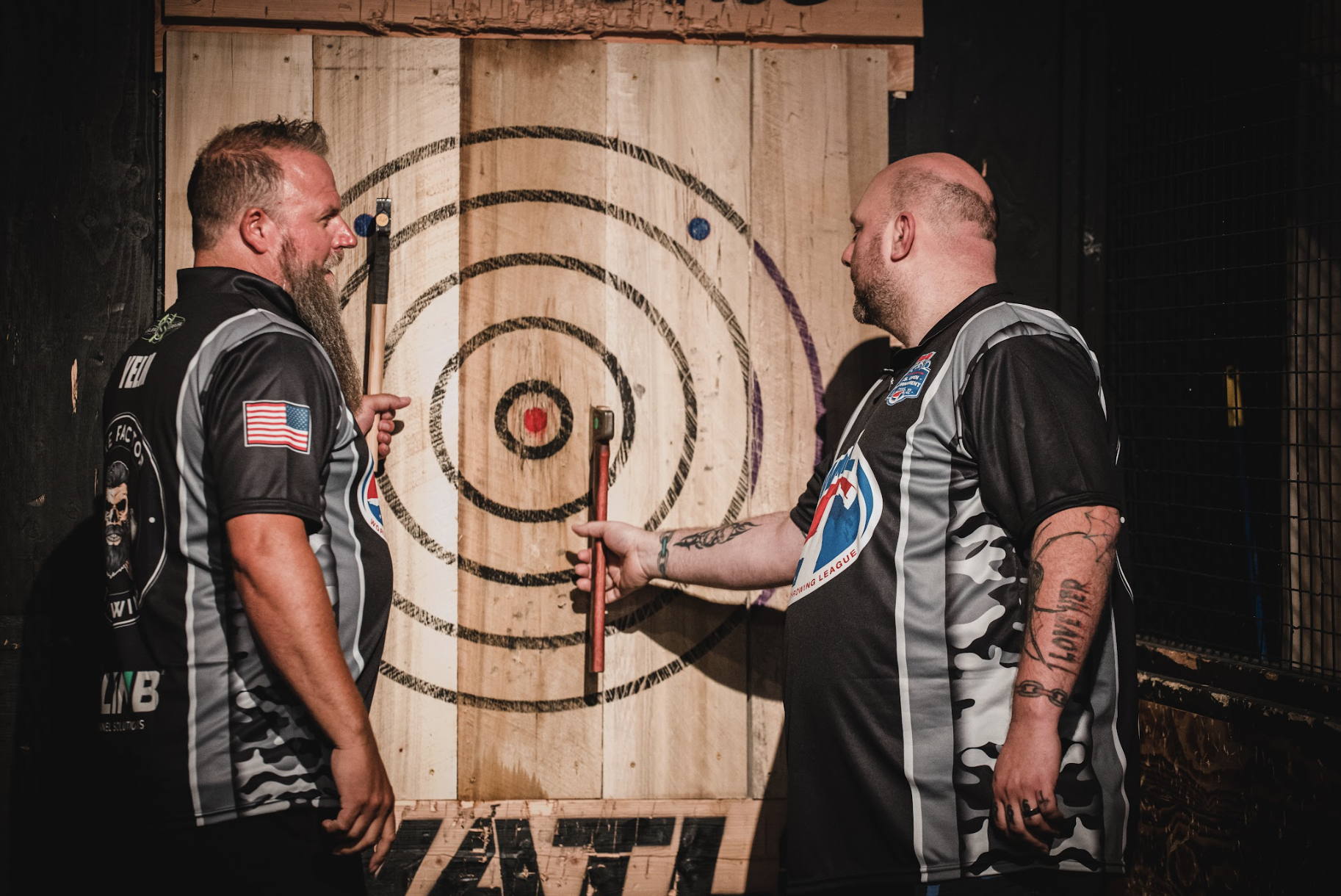 In 2022, WATL reduced the amount of time between seasons, to end the year earlier, leaving more time for Worlds bid earners to plan and book their trips. As a result, there is a 2 1/2 month gap between the end of the Fall season, and the beginning of the Winter 2023 season.
The league team within WATL came up with an idea to keep throwers engaged in competition through this 'off-season', which we have dubbed, the Venue Cup.
The Venue Cup is intentionally designed to be a competition for players that do not earn a 2022 WATC bid.
We strongly encourage WATC bid earners to play, and help the other throwers in their venues train and improve their game!
Venue Cup Overview
The Venue Cup is a 4-week competition, beginning November 6th, and ending December 4th, 2022
Each week, the top 3 and bottom 3 scores from each participating venue are averaged, to create a weekly average score for each venue

Throwers that earned a bid (accepted or otherwise) will not count as a top or bottom 3 player if they are participating
An ongoing leaderboard will be published, ranking each venue by their weekly average

After week 3 is completed, the first 3 weeks averages for a venue are averaged again, to create the venues overall average to beat.
The final week (the 4th) is thrown just like every other week. The top 3 and bottom 3 scores are averaged together and compared to the FIRST 3 weeks' average.
The winning venue is the one that BEATS their first 3-week average by the the largest margin on week 4
As you can see, the goal here is to focus on players improving their scores over the 4 week period, creating an even opportunity for throwers of all skill levels to rise to the occasion of the Week 4 competition.
Basic Rules
This is a hatchet league competition only.
Any league starting the week of November 6th will be counted as participating in this competition. If you want to notify WATL of your venues intent to play, you can register here.

Venues MUST participate in Week 1 to be registered for this competition

The minimum number of throwers that can form an official league is the same as regular league play – six (6)

There is no maximum number of throwers for a league
Only players that complete 4 or more games will be counted towards the minimum

In the case that a venue is short players for a single week (sickness, injury, etc) that drops them below 6 participants, for each player they are "missing" they will receive an automatic average score of 52 added to their venue average for the week.
Venues may run multiple leagues, and players may play in multiple leagues from the same, or other venues, there are no restrictions for this

If a venue runs multiple leagues – the scores from each league night will be combined to find the top 3 and bottom 3 players overall from that week
With that comes the possibility that a thrower participating in more than one league at the same venue may have multiple scores in the top or bottom 3 – this is allowed

**NOTE that after further score modelling is performed, this may be subject to change**

In the 4th week, at LEAST 80% (rounded up) of all players that have completed 4 or more games in weeks 1-3 MUST participate and log their scores. This is to prevent venues from just putting up their top players to beat their average in the final week. Any venue that does not meet this threshold for participation will be disqualified from winning.
WATL has engaged third parties to monitor for intentional cheating (hippodroming, sandbagging). Each player's score will be monitored to ensure it is within a set tolerance based on their scoring history. If any player or venue is found to be intentionally throwing lower scores in an effort to lower their overall average for week 4 will be immediately disqualified.
Host Venues
Location
Address
City
Contact
Angry Jacks Elkton
985 E Pulaski Hwy
Elkton, MD
Angry Jacks Exton
15 E Uwchlan Ave
Exton, PA
Angry Jacks Pville
420 bridge st
Phoenixville, PA
Angry Jacks
77 Wind creek blvd
Bethlehem, PA
House Of Hatchets
489 Bearse's Way
Hyannis, MA
capecodaxe.com
The Hatchetbury
213 NW 8th Avenue
Gainesville, FL

[email protected]

Big Dawgs Axe Junkies
331 North Lake Street. Suite A
Madison, OH
(440) 855-7920
Crazy Axes
228 Columbia Road
Hanover, MA

[email protected]

Adirondack Axe
578 Aviation road
Queensbury, NY
adirondackaxe.com
Cascadia Axe Co
5681 Crater Lake Hwy. Ste 4
Medford, OR
cascadiaaxe.com
Savage Society axe throwing
1937 Cooper Foster Park road
Amherst, OH

[email protected]

HATCHET HANGOUT – Axe Throwing St Pete
2360 Central Ave, Petersburg, FL 33712
Saint Petersburg, FL
hatchethangout.com/st-pete
HATCHET HANGOUT – Axe Throwing Clearwater
709 N Myrtle Ave
Clearwater, FL
hatchethangout.com/clearwater
Main Street Axe Company
215 S. Wall Avenue
Joplin, MO

[email protected]

Asgard Axe and Tap
714 Oak St
Wisconsin Dells, WI

[email protected]

Axes&Armor
4005 Raeford rd
Fayetteville, NC
(910) 491-1233
Axe Habits Palmetto Bay
9228 SW 156 St.
Miami, FL

[email protected]

Real Ax
2920 S MacArthur Blvd
Springfield, IL
reaaxthrowing.com
Murfreesboro Axe
211 W Main Street
Murfreesboro, TN
murfreesboroaxe.com/league
Lumberjax Urban Ace Throwing
2808 Niles Avenue
Saint Joseph, MI

[email protected]

Main Street Axe Company Emporia
616 Commerical Street
Emporia, KS
(620) 778-5291
Grand Throw House
361 Lang Blvd
Grand Island, NY
(716) 404-9987
Jersey Axe House
52 E Centre Street
Nutley, NJ
jerseyAxeHouse.com
Main Street Axe Company
216 S. Broadway
Pittsburg, KS
(620) 266-1685
Texas Axe Throwing
23300 i45
Spring, TX
texasaxe.com
Section 715 Throwing Co.
3248 Meccca Dr
Plover, WI

[email protected]

Big Dawgs Axe Junkies
331 North Lake Street, Suite A
Madison, OH
(440) 855-7920
Bighorn Mountain Axe
303 Broadway St. Unit B
Sheridan, WY
(307) 675-6293
Valkyrie Axe Throwing
45 E Main St, Suite 108
Chattanooga, TN
(423) 541-7583
Jersey Axe House
52 E Centre Street
Nutley, NJ
jerseyaxehouse.com
Litchfield County Axe House
437 S Main St
Thomaston, CT
litchfieldcounty

[email protected]

FlagTagAZ
1801 W Route 66 STE 102
Flagstaff, AZ
flagtagaz.com/venuecup
RelAxe Throwing
157 Gay St
Manchester, NH
relaxethrowing.com
Rockstar Axe Throwing
3402 Technological Avenue, Suite 148
Orlando, FL
rockstaraxethrowing.com
Plaid & Timber Axe Throwing Company
2710 Eastside Park Road, Ste C
Evansville, IN
(812) 402-0390
The Lazy Axe
1865 Central Ave
Albany, NY
thelazyaxe.com
Raging Smart Axes
401 N. Main Street
Gravois Mills, MO

[email protected]

Unleashed Camden
258 Haddock Rd
Kingsland, GA
unleashedcamden.com
Ox Indoor Axe Throwing
119 Rhea Lane
Billings, MT
oxthrowingsports.com
Hurling Hatchets
12344 Gulf Freeway Suite L
Houston, TX

[email protected]

Craft Axe Throwing Downtown Knoxville
119 W Fifth Ave Suite 150
Knoxville, TN
(865) 213-9494
TommyHawks Axe House
1631 W. College Street
Springfield, MO
tommyhawks.net
The Axe House STL
20 Meremac Valley Plaza Dr
Valley Park, MO

[email protected]

Tjs hatchet hangout
1242 SW Pine Island Rd #19
Cape Coral, FL

[email protected]
Get Exclusive Offers & Stay Up-To-Date
Sign-up today and never miss an update in the exciting world of axe throwing.