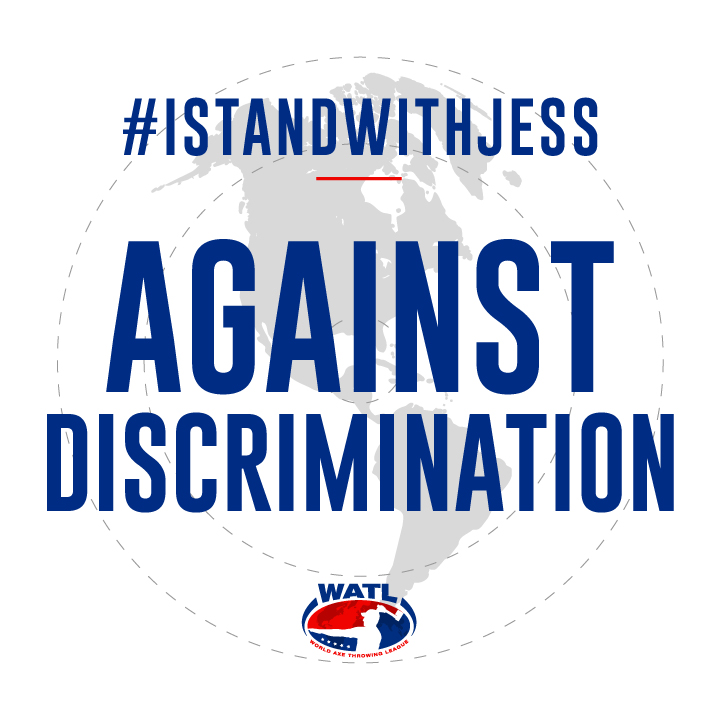 When WATL was founded, the community was built on the fundamental principle that we are all equals: everyone competes together, all equal, and no separation of age, sex, or race. Equality has been a founding principle of WATL. 
What many people don't know is that I, myself, am a minority. My family and I came to Canada illegally, not knowing how to speak English and we were extremely poor (my first home in Canada was a shelter home). I faced many challenges in the 80s and 90s with racism and discrimination, so this topic hits close to home for myself and I'm sure, many others in the community.

On Monday, we received an official complaint regarding a WATL thrower who was discriminated against. WATL began an investigation and communicated with both parties on Tuesday & and finalized a decision on Wednesday. The WATL staff worked expeditiously on the matter.
As a result of our investigation, we have decided to terminate the Membership & Licensing Agreement the Affiliate had with WATL, effective immediately. Due to threats of litigation by the Affiliate against WATL, we will not be commenting further on the matter.
WATL expects the community to follow the Code of Conduct, regardless of the nature of the complaint in question. By creating, engaging or being a part of negative communications, these acts do not help us in being able to conduct our investigation in a timely and efficient manner. We would like to challenge both Affiliates and Throwers to learn from this experience: choose education over condemnation, restraint over impulse, peace over war. There are ways you can support someone without hate for another.
I personally thank you all for your patience and more importantly, thank the thrower for having the strength and confidence to come directly to WATL to help resolve the matter. Your strength, patience, and grace is something we can all learn from.
-Mario
Get Exclusive Offers & Stay Up-To-Date
Sign-up today and never miss an update in the exciting world of axe throwing.