The USA Pro-Am Portal is the main source of information going forward for the event. All information will be updated in the portal only, not on this page.
---
Update May 25, 2023: We are thrilled to announce that WATL is returning to Appleton for the highly anticipated USA Pro-Am Tournament! This thrilling event is set to make its grand debut November 9-12 in the heart of Wisconsin. Axe enthusiasts and fans from around the country can witness the best of the best in the sport as they compete for the coveted title of USA Pro and USA Amateur Champion. Competitors will also battle it out in the multi-faceted skills team competition and unique duals games throughout the weekend. This exhilarating tournament will showcase the incredible skill, precision, competition, and comradery that have made axe throwing a sensation worldwide. The passionate Appleton community is excited to have us back, and we're just as excited to be there again!
"We are beyond excited to bring the USA Pro-Am Tournament back to Appleton. The energy and support we received from the city and its axe throwing community during the previous tournament was unparalleled. We can't wait to witness the jaw-dropping throws and fierce rivalries that will undoubtedly take place on the tournament floor. This event is a celebration of the sport and its dedicated athletes, and we invite everyone to join us for an unforgettable experience!" – Mike Morton, WATL Commissioner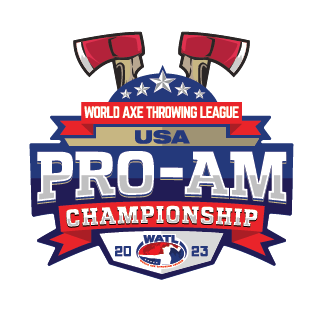 Posted April 13, 2023: It's official; the US Open is retiring (at least for now). Much like our reigning Canadian Open champion (David Cycon), Mark Tishko, Vin Crescenzo, and Brown-Johnson will hold their championship titles indefinitely #yourewelcome. In its place, we are excited to announce a completely new event, the USA Pro-Am Championship, which will join WATL's televised tournament lineup.
So why the change?
The US Open and WATC are almost identical in every single way. They do a great job of highlighting ONE (important) aspect of the sport, but they fail to encompass everything the sport is at its core: a sport which is equally as fun, engaging, and community oriented as it is competitive.
The new USA Pro-Am Championship will focus on highlighting throwers of various skill levels, marking the first step towards a future with multiple divisions of competition and leaning into the more fun and exciting aspects of the sport.
A thrower recently expressed that you won't find the true heart of this sport on the live streams or current broadcasts; to find that you'd have to keep the cameras rolling once all competition is over. Watch the games people come up with and the camaraderie shared between all throwers in the lanes when the cameras stop. Watch the pros giving advice and sharing tips and tricks while doing pretty much anything BUT traditional throwing.
This is what we want to encapsulate and show to the public. The 2022 Commissioner's Cup was a step in that direction, but we want to balance the fun and skills of such an event with the competition seen in our other broadcasts. We have developed events that showcase the talents of multiple throwers, while also demonstrating the sportsmanship and fun our sport has to offer.
So what does this newly minted Pro-Am look like? Read more below!
Events and Registrations
9 total events, all of which will have finals aired on ESPN. Registrations will open June 12 and remain open for 3 weeks. You can find the newly released rules for each of the Skills and Duals games under their respective sections.
Pro Invitational Division – 64 throwers

64 throwers will receive an invite to the Pro Hatchet tournament. All throwers who place in the top 10% of any 2023 WATL Tier 1 or 2 tournament (starting with Westside Special and ending with ThrOhio). If additional bids are necessary, WATL will extend further invites on an as-needed basis. Pro Invitational tickets include entry into the Skills events (more on that below).

Run under the 2023 rule set.

Amateur Division – 128 throwers

Registration for the Amateur portion of the tournament will be open to all competitors falling below a designated average threshold (which has been internally determined) for their highest 2023 season (Winter or Spring). We understand that registrations are likely to exceed the 128 available spots. In this case, those who register will be entered into a lottery for the 128 available spots. Those not selected will receive a full refund of entry fees, and those selected will not be entitled to refunds should they decide not to participate in the event.

Run under the 2023 rule set.
WKTL Standard Tournament – 128 throwers

Registration for the first 90 spots will follow the same format as the Amateur Hatchet registration. Additional entries will be extended to anyone who placed top 8 in the 2022 WKTC or US Open, top 4 at any 2023 WKTL sanctioned bid tournament, or top 20 in the 2023 Winter or Spring WKTL season.

Run under the 2023 rule set.
Skills & Special Duals Events

Skills – four events, 64 teams (3 throwers per team), teams will compete in all four events
WKTL Duals – 32 teams (2 throwers per team)
Special Axe Duals Game – 32 teams (2 throwers per team)

Skills and special duals event registrations will available as add-ons to the other event registrations – with the exception of 64 skills entrants which will be included with Pro registration (more on that below). Should additional spots be available after initial registration, these will be open to the public on a first come-first served basis.

Throwers cannot participate in WKTL Duals and Special Axe Duals game, as they will be hosted at the same time on Saturday.

There are 4 Skills Games in the team competition. Players will be on the SAME TEAM for all 4 of the skills games.

NO OVERHEAD THROWING is allowed for games that include 1.5 spin hatchet.

Skills Game Rules

Special Duals Games Rules

Skills Teams Formation

The 4 Skills events will consist of 64, 3-person teams (196 competitors). Each Pro Invitational competitor will captain a Skills team and draft from the other entrants. Pros are not required to participate, however, entry to the Skills portion is included with the Pro entry fee and may not be separated.

When registering, Pros may designate whether they would like to abandon (not participate- in which case their team would be given to another competitor), be assigned a random team, or draft their two additional teammates (more on how this will work will be included at time of registration).
Pricing
| Competition | Price | Notes |
| --- | --- | --- |
| Pro | $375 | includes entry to Skills Competition and captaining a Skills team |
| Amateur | $125 | 8 WATC bids |
| Skills | $200/pp | Entry for all 4 Skills events (non-Pro) |
| WKTL Standard | $135 | 6 WKTC bids (bids trickle down) |
| Special Axe Duals | $75/pp | Cannot do WKTL Duals if participating in this event (running concurrently) |
| WKTL Duals | $75/pp | Cannot do Special Axe Duals if participating in this event (running concurrently) |
---
Schedule
Subject to change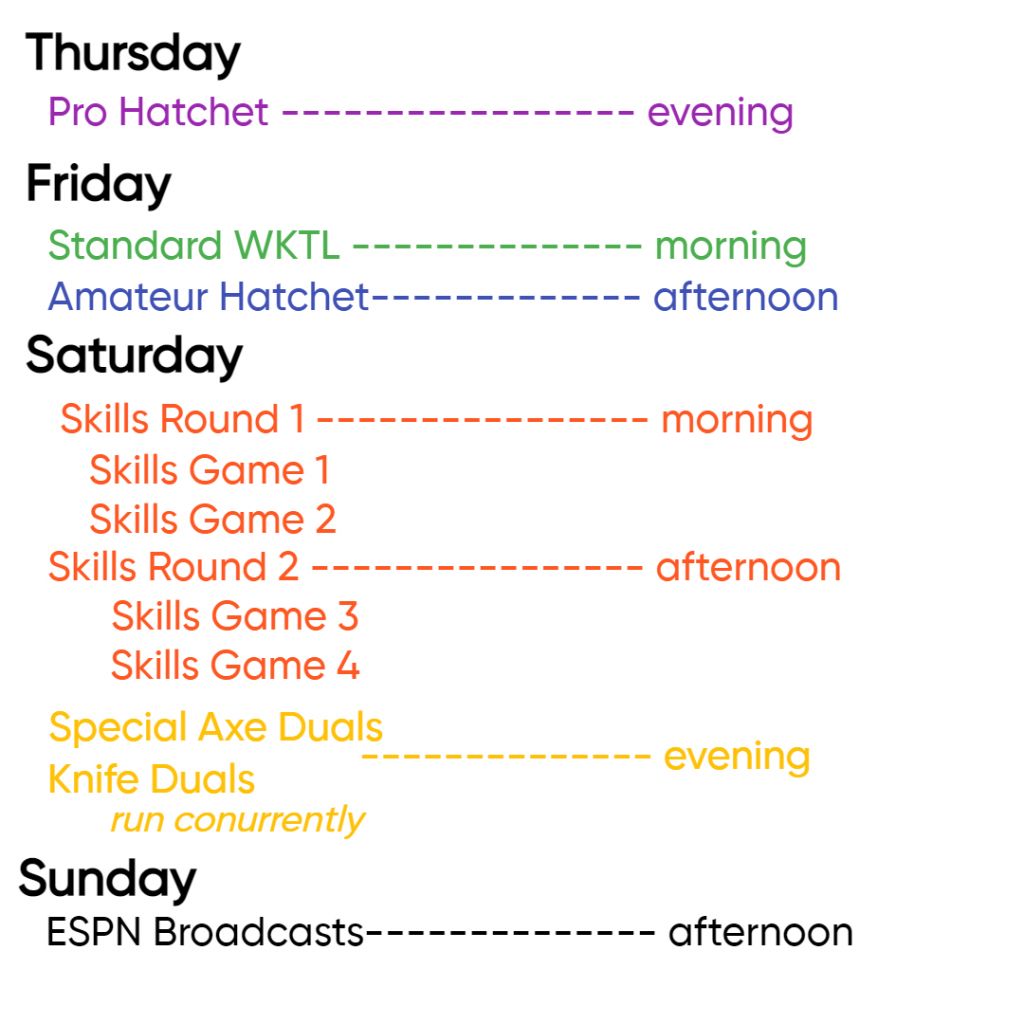 Prize Pools
Subject to change – updated 4/19/23 to adjust tie breakers of Amateur/WKTL Standard payouts.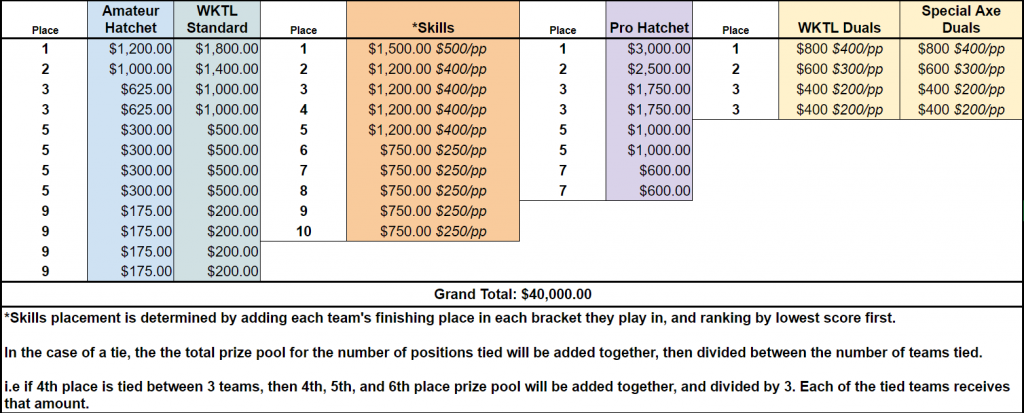 ---
Registrations for all events will open June 12 and remain open for 3 weeks. Invites for the designated Pro and WKTL spots will be sent out around this time.
---
---
Get Exclusive Offers & Stay Up-To-Date
Sign-up today and never miss an update in the exciting world of axe throwing.