It's hard to believe but International Axe Throwing Day, June 13th, is just around the corner. International Axe Throwing Day is a day to celebrate all aspects of the sport Axe Throwing.
We like to highlight International Axe Throwing day by issuing challenges to our community in the form of WATL World Records.
In 2020, we celebrated a WATL World Record by setting the record for Most Axes Thrown Simultaneously at a Target. Over 400 Throwers came out last year for the history-making event.
We have something very special planned, something we've wanted to do for a long time.
We're going to set the WATL World Record for:
Who Can Throw The Most Bullseyes In A Row
The Rules
All Throws must be completed on International Axe Throwing Day.
All Throwers must have a Judge present to have their scores counted.
Basic WATL Rules still apply

Targets must be WATL Standard Targets, measurements can be found in the WATL Rules.
Throws must be made from behind the 12ft line.

All Throws must be recorded on video.

Throwers must submit a recording of every attempt they wish to count for the Record.

If you need a refresher, here is how to film throws

All throws will need to be recorded to count toward the record.
All videos must be submitted by June 14th at 11 am EST.

In tandem with their video submission, Throwers must submit a Google Form for every attempt they wish to submit for the World Record.
Throwers are allowed multiple attempts
The Winner of the Most Consecutive Bullseyes competition will receive the Prototype Axe, The Queen of Hearts.

We will announce the winner on June 18th.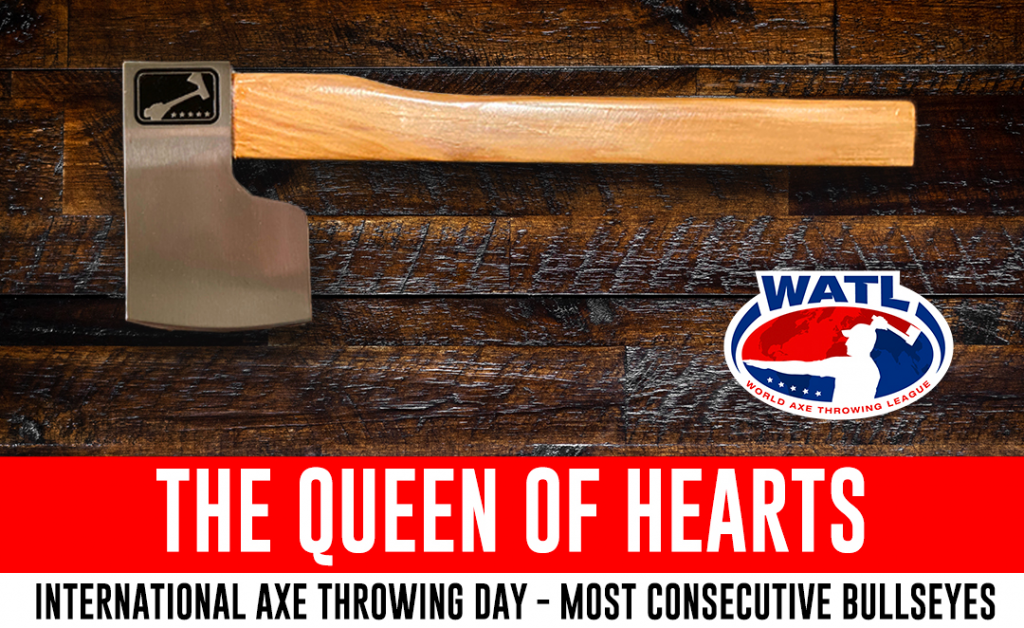 Reach out to your local WATL venue and check to see if they are participating in this year's event. It is at your local venues discretion to offer WATL World Record opportunities.
There are also more record opportunities that you can attempt.
If you would like to try for another record, here are a few to choose from:
Longest Distance Bullseye
Longest Recorded Double Killshot Throw
Bullseye with the Most Rotations Under 30 Feet
Most Axes Stuck In Under A Minute
Fastest Target Drawn
Smallest Bullseye Hit
Fastest "Around The World"

Hitting Every Points Zone and both Killshots in the shortest amount of time.
To submit for another WATL World Record
All Record attempts must be recorded and the parameters of the record must be highlighted beyond a reasonable doubt.
For example:
In a submitted video for Longest Distance Bullseye:
We would need to see the length from the target to the thrower (ie. Range Finder or Tape Measure)
The video needs to show the throw with both the target and the thrower in frame.
Without cutting, the video would need to show the Axe clearly breaking the Bullseye.
In short: We need to see every element of your record attempt in your submission for it to be counted towards the WATL World Records.
Get Exclusive Offers & Stay Up-To-Date
Sign-up today and never miss an update in the exciting world of axe throwing.