Resolutions & Competitive Rulings
The following resolutions and policy changes were voted on and ratified by the World Axe Throwing League (WATL) Council and are effective immediately.
Procedure for Disciplinary Actions: 

Disciplinary actions that may require the suspension or ban of WATL competitors must be voted on by the Council with majority vote determining the final decision
All communication to the WATL competitor under review will be conducted via official WATL channels
Rulings will be deliberated on for a minimum of 3 business days. Exceptions may be made for time sensitive infractions at the discretion of the WATL council
The WATL Council will also vote on the length of the suspension and/or ban based on the following criteria:

The severity of the infraction, 
any prior warnings or infractions 

Escalating Disciplinary Action Policy: Competitors may be warned up to a maximum of 3 times with the 3rd infraction resulting in a mandatory ban 

WATL may issue a warning through official WATL channels and/or speak directly to the competitor with a minimum of 2 other council members present 

Publishing Competitor Suspensions & Bans: WATL will publish competitor suspensions & bans including:

Competitor names 
Cited infractions of rules and/or code of conduct
Disciplinary action taken 
Duration of disciplinary action (if applicable)

Restricted Axes: The banning of counterfeit or restricted axes will be limited to WATL venues, targets, tournaments or related events. Players may not:

Utilize restricted axes at WATL Leagues or Tournaments
Post pictures of restricted axes on WATL branded properties, including, but not limited to, WATL branded social media pages or groups
Utilize restricted axes on WATL branded targets or at WATL events
Utilize restricted axes in WATL venues
WATL had published additional rules surrounding the use of Restricted Axes due to an on-going issue surrounding the purchase and promotion of axes from Warriors Axe Throwing and Hacha Manufacturing.
WATL enforces rules as they exist during the time of infraction. Competitors are expected to have clear and adequate knowledge of the rules and WATL expects competitors to abide by those rules. WATL may, at its discretion, modify or clarify rules and/or policies at any time.
Recent Bans
WATL would like to clarify the disciplinary actions assessed to both Dennis Cejvanovic and Shady Vito. WATL would also like to acknowledge the incorrect medium in which this ruling was delivered, and all official rulings will be communicated via email from official WATL channels or accounts. The WATL Council has voted to update the rulings to the following disciplinary actions.
Dennis Cejvanovic
As a result of the aforementioned, by majority vote from the WATL council:
Effective immediately Cejvanovic has been banned from all WATL sanctioned leagues and tournaments until August, 1st 2022
Cejvanovic will forfeit his 2020 World Axe Throwing Championship (WATC) Bid
Cejvanovic may appeal the ban to the Council as early as December 28th, 2020 in writing:

The WATL Council will review the appeal through a hearing containing at least 2 WATL Council members and the applicant
During the ban period, Cejvanovic will continue to be subject to WATL Rules & Regulations, including the Code of Conduct & Social Media Policy. Violations of any rules, regulations or policies may result in an extension of the ban period and will be reviewed during any appeals to the WATL Council.
Shady Vito
Vito was a competitor in the 2019 US Open, participated in 2019 WATL Spring, Summer & Fall Leagues, earned a qualification, and attended the 2019 World Axe Throwing League Championship. As a past and potential future participant in WATL events, Vito is bound by WATL rules & regulations.
Initial Infraction:

Vito had previous knowledge of the on-going issue with Warriors Axe Throwing/Hacha Manufacturing
Vito purchased and promoted restricted axes

Relevant Rules: Restricted Axes

"Any throwers knowingly purchasing and throwing restricted axes will be subject to sanctions, including but not limited to: forfeiting tournaments, seasons and and additional suspensions from WATL based on the severity of the infraction."


Secondary Infraction:

Vito engaged in multiple actions on social media that violate the WATL Code of Conduct

Relevant Rules: Code of Conduct

Article 2: "Accept & respect the decisions of WATL officials"
Article 5: "Be courteous and respectful to opposing players, teams, officials, spectators, monitors, and facilitators"
Article 8: "Refrain from the use of abusive language or profanity…"
Article 11: "Act with respect and courtesy during any and all interactions with the WATL, its officials, staff or council members"
As a result of the aforementioned, by majority vote from the WATL council:
Effective immediately Vito has been suspended from participating in all sanctioned and unsanctioned WATL leagues, tournaments and events until December 28th, 2020
During the suspension period, Vito will continue to be subject to WATL Rules & Regulations, including the Code of Conduct & Social Media Policy. Violations of any of those rules or policies may result in an extension of the suspension period and will be reviewed during any appeals to the WATL Council.
Warriors Axe Throwing, Hacha Manufacturing and Unsafe Work Environments
While WATL cannot comment on on-going legal matters, WATL will continue to take a step towards increased transparency. WATL is prepared to release the following statement in regards to the banning of Warriors Axe Throwing and their supplier, Hacha Manufacturing. Since the first update, WATL has determined it is in the best interest of the WATL community and greater axe throwing community to have more knowledge about the unsafe work environments provided by Hacha Manufacturing. This will allow for throwers to fully understand the decision to ban Warriors Axe Throwing & Hacha Manufacturing from WATL leagues, events facilities and tournaments.
Hacha Manufacturing and Unsafe Work
It has been requested after the first statement announcing the restricted axes policy for WATL to name the specific manufacturer. The decision was made at that time to not release the brand in an effort not bring attention to their company.

The manufacturer in question is Hacha Manufacturing.
Hacha Manufacturing, located in Pakistan, engages in work practices that are not supported by WATL. These working conditions include but are not limited to, improper ventilation, lack of safety equipment and improper safety of youth workers. Below we've included some visuals & videos of the working conditions at Hacha Manufacturing. Of particular note, is the picture depicting a youth worker sharpening axes with no facial protection. This leads to the inhalation of metal dust and filings resulting in metal permanently being lodged in the lungs. This can lead to permanent lung damage resulting in difficulty breathing, lung disease and lifelong health problems. In addition, he is also wearing improper footwear and clothing for the environment which could lead to serious injury from hot metal or sharp objects.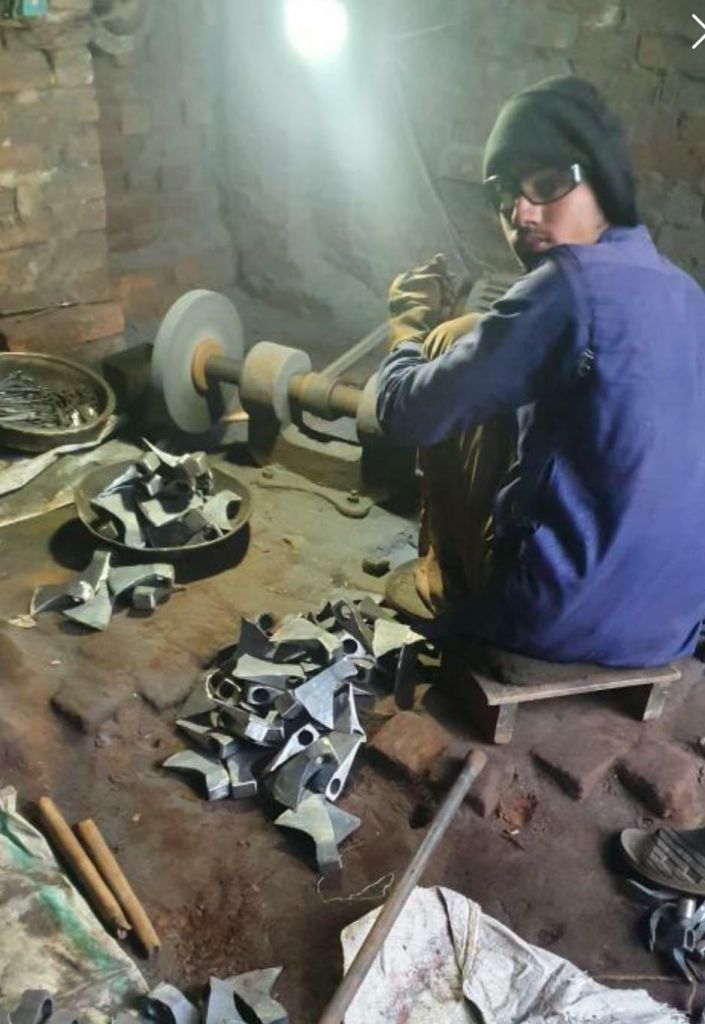 Warriors Axe Throwing
Due to an ongoing legal matter, we cannot provide any specifics in regards to our restriction of Warriors Axe Throwing products. We would like to state unequivocally that any affiliate members of WATL that purchase or promote the purchase of any property from Warriors Axe Throwing will be subject to sanctions from WATL. Enforcement of this ban is limited to WATL venues, tournaments, events and other WATL branded properties, digital or physical, as per WATL rules & regulations.  WATL has taken necessary steps to protect our intellectual property, specifically for the Corporal and the Butcher. As a result of these steps, we are required to monitor and defend those specific designs.
While our focus on this matter has been a legal one, we ask the community to consider where their products are coming from, as this is what their purchase will ultimately support.
WATL is constantly advancing the sport of axe throwing and in doing so, we must ensure that all aspects of the sport continue to evolve to represent the highest standards in safety and responsibility.
Why We Take Restricted Axes Seriously
WATL has existed and continues to exist for the sole purpose of giving a voice to axe throwers, and an opportunity to participate in a sport they love on a larger, global scale. WATL has invested in the development, manufacturing, sales and distribution of axes and merchandise to fund the ongoing operations of the organization. Sales of these products and affiliate fees serve to ensure that WATL can continue to pay the employees that administer and operate the organization without increasing costs for our affiliates. These practices also serve to increase the number of tournaments and prize payouts while helping remove and/or reduce the burden on our affiliates.

We encourage our membership to support the organization through the purchase of merchandise, however we also support the growing maker community in their efforts to provide modified heads and handles to express the individuality of the membership.

With over 10,000 registered league members globally, and over 225 affiliates serving millions of customers per year, these funds continue to support efforts to drive more marketing and exposure to bring bodies through our affiliates doors.  Which is critical for those affiliates now more than ever.
Get Exclusive Offers & Stay Up-To-Date
Sign-up today and never miss an update in the exciting world of axe throwing.