2022 US Open jerseys will be provided free of charge to all US Open Competitors.
If you require multiple jerseys or want to represent an additional venue as your main venue logo via multiple jerseys, you can contact WATL at [email protected] for supplemental jersey purchases.
If you are not competing in the US Open, but would still like a US Open jersey – they will be available via Sublime after the US Open competitor jerseys have been finalized.
It is the sole responsibility of throwers to submit their jerseys, sponsors and all supplemental information by the deadlines listed below.
Please note that WATL is not fully in charge of the vetting process for televised sponsors. For guidance on sponsorship, please review the Terms and Conditions at the bottom of this page.
Deadlines for the US Open
Sponsor Submissions Open: March 21st
Sponsor Submissions Close: May 2nd
Jersey Order Deadline: June 1st
Please submit your sponsor approvals if you plan on attending the US Open, even if you have not secured a spot through the lottery.
Jersey ordering will be available to throwers via the Thrower Portal after the lottery draw on April 7th.
Jersey Guidelines
Sublimewear USA is the sole licensed jersey supplier for the US Open.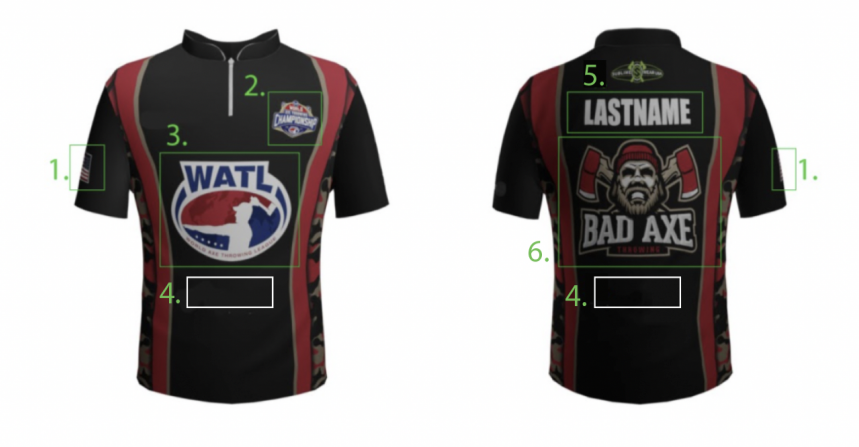 All US Open Jerseys must have:
Country Flag of Residence or Birth

Proof of residence or birthplace may be requested by WATL

US Open logo
WATL logo
Event sponsor
Last name

First names and nicknames are not allowed on the back of the jersey

Venue Logo

The venue represented on the jersey may be decided by the player, but must follow these parameters:

The player must have permission from the venue they choose to represent.
The player must have completed a standard/marathon league or qualifier, in the last 12 months, at the venue being represented.
If a thrower does not have a venue to represent, a generic jersey will be available.
If the venue you are representing does not have a custom-designed jersey, you must use the generic jersey made for the particular tournament.
Players may opt to use a generic jersey if they so wish.

Sponsored logos may be placed in the sections denoted in the green squares as shown below in Figure 2.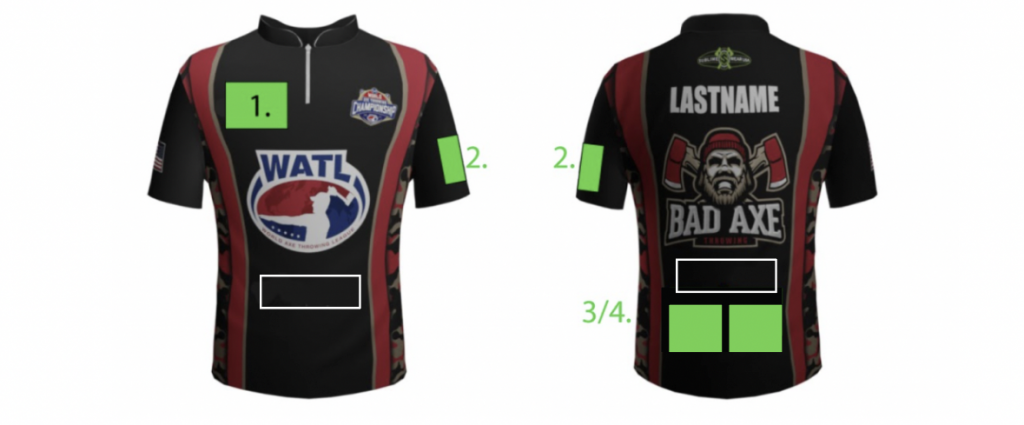 Up to 4 unique sponsor logos may be used. The sections as shown in Figure 2 above are:
Right Chest

This space can be used as a sponsor spot or 1 additional venue logo.
Additional venue logos can not be used in alternate spots 2-4

Left Side Sleeve

This space can also be used for 1 personal logo, names or graphic

All material must adhere to the sponsorship guidelines seen below.

Backside below the venue logo – left

This space can be used as a sponsor spot

Backside below the Venue logo – right

This space can be used as a sponsor spot
The 3 and 4 spaces on the back of the jersey may be combined to use for two sponsors side by side, or one larger sponsor logo in the middle.
All televised finalists' apparel and accessories will be subject to review. Any unapproved logos or logo placements (additional logos on clothing, axes, etc.) may be covered up for the broadcast.
Sponsorship Guidelines
The following sponsors may be declined for ESPN broadcast:
Sponsors without public information

Links to a website, social media, or other similar public resources are required.

Firearms and weapons

This can include companies that host weapon merchandise or content

Gambling, casinos or contests
Hard liquor and nicotine

Beer and wine may be acceptable, provided that the product does not contain more than 24% alcohol by volume.

Controlled substances
Charities and fundraisers
Any product or service that includes false or misleading claims.
Please note that axe/knife manufacturers require a specific agreement with WATL prior to approval for sponsorship use.
A full list of our terms and conditions for sponsorship submission can be found at the bottom of this page.
Logo Guidelines
There are limitations on what can be shown on an approved sponsor's logo.
Logos submitted can not include contact information, addresses, phone numbers, or offensive imagery.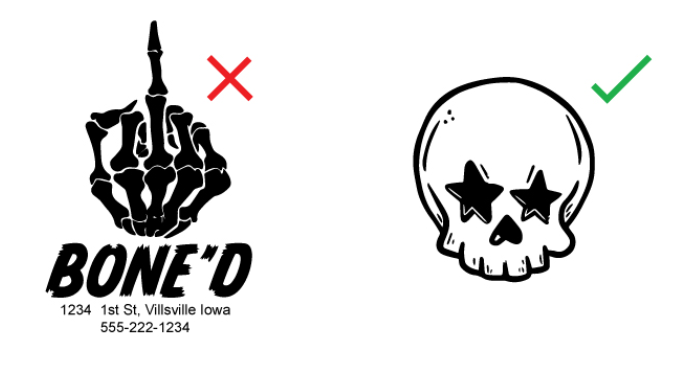 On the left side of Figure 3, the rejected sponsor has an address and phone number, as well as a suggestive name and imagery. Even if this fictitious company "Bone'd" followed the sponsorship guidelines listed above, this logo could still be rejected.
Rejected Sponsors
Competitors may challenge a declined sponsor by emailing WATL ([email protected]) up to 48 hours after the communication is sent to the thrower. Any challenge made after 48 hours of the email receipt will not be considered and the sponsor will not be approved for the event in question. Competitors may resubmit the same sponsor for approval at the next televised tournament under the same guidelines.
In order for WATL to resubmit a sponsor for additional vetting, your new submission must be in line with the sponsor and logo guidelines outlined above.
WATL can never guarantee the acceptance of any sponsor and sponsors may be declined for reasons beyond our control.
Sponsorship Terms and Conditions
Submission of any sponsorship material shall constitute your warranty to WATL that all elements have been cleared for distribution (Internet distribution, digital or broadband properties) with respect to intellectual property rights: this includes, but is not limited to, rights of privacy and publicity.
All material submitted for approval over any of WATL or affiliated networks or other media platforms is strictly the responsibility of the party submitting sponsorship material(s) and WATL makes no warranties or representations to sponsorship material(s) being approved or distributed across various channels.
General Standards
WATL reserves the right to:
accept or reject at any time material(s) for any sponsor for distribution over any of its tournaments or distribution properties;
require elimination or revision of any material which violates WATL's Code of Conduct, standards, policies or guidelines; federal, state or local laws or regulations; is otherwise contrary to the public interest;
reject any material in which the sponsor material could negatively affect its audience; and reject any material that appears in WATL's sole judgment to improperly associate the submitting sponsor with a WATL or WATL sponsored or owned property (e.g. US Open, World Axe Throwing Championship, or WATL owned trademarks, etc).
reject any material or sponsor where sponsor employees, owners or shareholders have engaged in conduct contrary to the WATL Code of Conduct
Furthermore, WATL may refuse material or sponsor (which includes sponsor employees, executives, shareholders or owners), in WATL's sole judgment:
May violate any rights of any person, firm or corporation
Contains any false, unsubstantiated or unwarranted claims for any product or service, or makes any unauthenticated testimonials
Advertises any habit-forming drug, tobacco product, distilled liquor, handgun or handgun ammunition
Contains any material constituting or relating to a lottery, a contest of any kind in which the public is unfairly treated or any enterprise, service or product that tends to encourage, abet, assist, facilitate or promote illegal or legal gambling
Makes any appeal for funds
Contains any material that is defamatory, obscene, profane, vulgar, repulsive or offensive, either in theme or in treatment or that describes or depicts repellently any internal bodily functions or symptomatic results of internal conditions, or refers to matters that are not considered socially acceptable topics
Contains or promotes any false or ambiguous statements or representations that may be misleading to the audience
Infringe or have previously infringed on WATL trademarks or Intellectual Property
Includes an element of intellectual property without the owner's consent to such use, including but not limited to design performance or gives rise to any other colorable claim of infringement, misappropriation or any other form of unfair competition
Disparages or libels any competitor or WATL
Is or might be injurious or prejudicial to the interests of the public, WATL or honest advertising and reputable business in general
Promotes CBD/Cannabis-related products or services
Get Exclusive Offers & Stay Up-To-Date
Sign-up today and never miss an update in the exciting world of axe throwing.