Due to the major increased interest in our major tournaments. We've decided to go with a Lotto Draw to decide who will be picked for the 2020 Canadian Open Competition.
We've worked out a system for the lotto draw to allow new competitors to come in the spirit of an open competition while supporting our loyal WATL competitors.
Lotto drawing for who will compete will take place live-streamed on the WATL Facebook page on February 15th  at 12pm Eastern.
Here is a breakdown of the allotment of lotto picks:
The Previous Tournament Champion will automatically be given a spot in the tournament to defend their title. Congratulations to David Cycon and best of luck in continuing to be the Canadian Open Champion.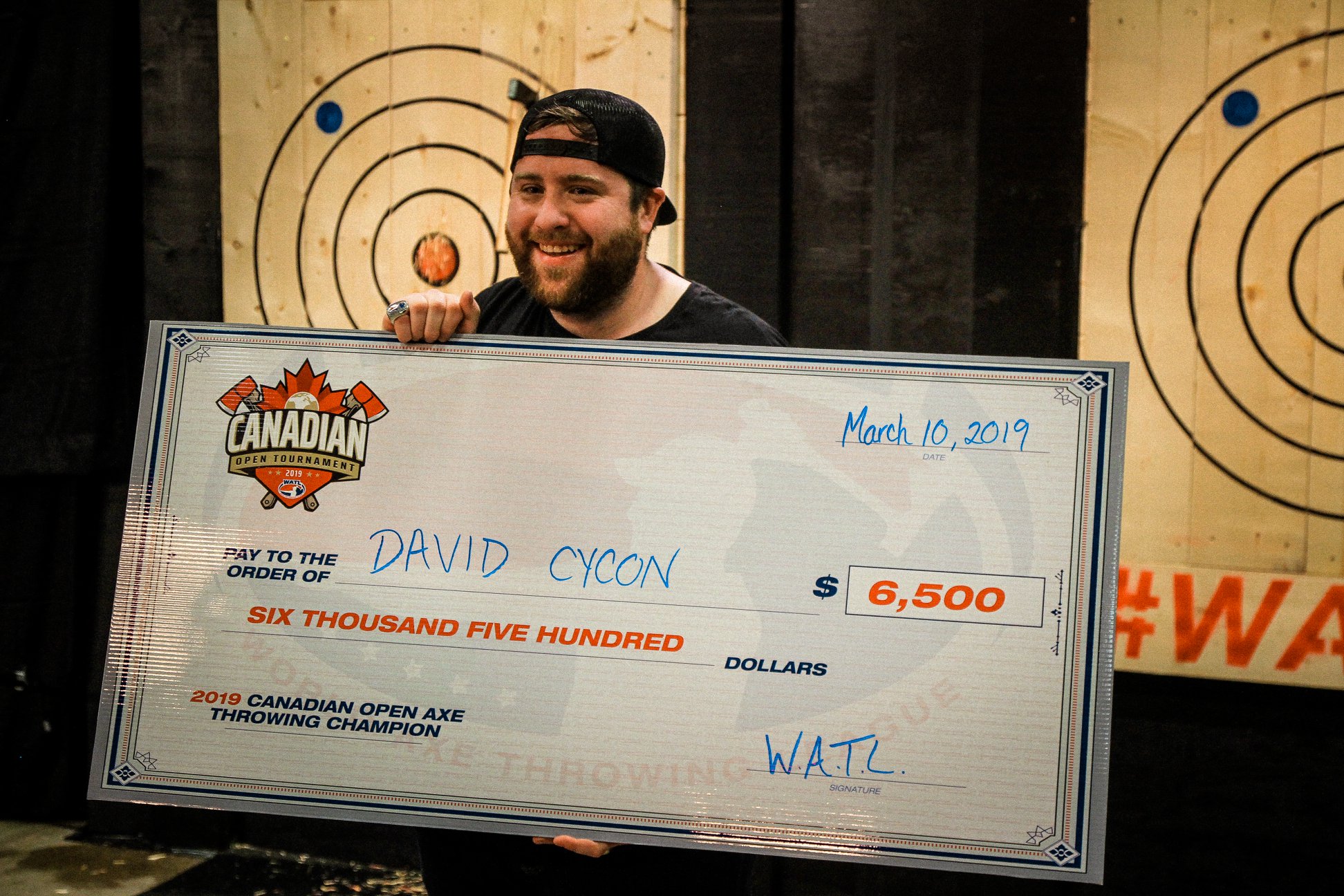 Lotto Draw Details
4 tournament spots are offered for the WATL Ambassadors Council members for their ongoing service to the sport of axe throwing and community.
For the rest of the 123 spots in the tournament (pending acceptance of the WATL Council spots), we will have two pools for the random lotto draws. Each entrant that has expressed interest in the Canadian Open will receive extra ballots depending on the factors below:
Draw 1: 118 WATL competitors

+1 for signing up
+1 if you were in the top 64 of the 2019 World Axe throwing Championship
+4 if you signed up & participated for this current season (Winter) 2020 Leagues
+1 if you've participated in a league or sanctioned tournament in 2019
-1 if the information submitted on the form is false.

Draw 2: 5 non-WATL League competitors

+1 for signing up
+1 if you've participated in a sanctioned tournament in 2019
-1 if the information submitted on the form is false.
-1 if you have a WATL axe throwing venue within an hour of your location & you have not joined a WATL sanctioned league
Please note: Individuals who submitted their name with multiple/various emails or used an alias for their real name on top of their regular name submission to get more ballots in the draw were removed from the ballot and not considered.
The more a player participates in WATL sanctioned leagues, the better the chances of being picked. We hope this format will encourage players to get more involved in their local leagues, support and grow those leagues, to then reap the benefits of our major tournaments. And while it does favor our league members for participation, we wanted to make sure to leave room for new rising stars that may not have a WATL affiliated venue near them to participate in the spirit of keeping the tournament open for new talent.
Best of luck in the drawing and we look forward to seeing all the familiar faces and new ones for our second annual Canadian Open tournament. More information on the 2020 Canadian Open to come soon!
As always, for updates on everything axe throwing in 2020 around the World Axe Throwing League stay tuned to our News Feed, check us out on Facebook and Instagram or join our discussion group on Facebook to chat with the WATL community!
Get Exclusive Offers & Stay Up-To-Date
Sign-up today and never miss an update in the exciting world of axe throwing.