When we conduct our tournaments and the World Axe Throwing Championship, we consider all options in determining a true champion. This tenet of "crowning the best" means that as a governing body, we recognize that there are talented axe throwers all over the world, participating in leagues that are not affiliated with WATL or participating and training in their own backyard. We want to crown a champion, regardless of where, how or who they throw for. This is why we're going to be opening up the World Axe Throwing Championship to allow independent axe throwers to compete for the wildcard spots in Tuscon on the evening of December 6th.
The 2019 World Axe Throwing Championship will be the biggest axe throwing tournament and event in the history of the sport. The approach that we found to be the fairest and most equitable for selecting wildcard qualifiers is to hold a lottery for registration on participating in the qualifying round for 50 eligible participants. We understand that there are many throwers who deserve representation as well who may not get picked in the random lottery so we will have 14 remaining Wildcard places hand-picked from the remaining lotto entries by the WATL council to complete 64 total wildcard throwers. Those Wildcard participants will then throw their qualifying throws on December 6th, starting at 8:00pm to determine which 10, of the 64 throwers will earn the opportunity to compete in the World Axe Throwing Championship.
Lotto Registration
Registration cut off will be 2:59:59am Eastern on October 21st.
We will have a random draw for entry order live-streamed on the WATL Facebook page on October 21st at 6pm Eastern.
The first 50 names selected will be emailed for payment of the $50 wildcard fee. If payment is not received in 24 hours then the lottery spot will be forfeit and given to the next player in line.

An additional 10 names will be drawn as part of the waiting list for those who do not pay the invoice within 24 hours.

After all lottery winners have been confirmed, the WATL Council will select their 14 nominees of the remaining pool.
Should any lottery winners or nominees qualify for the main tournament through standard play during the WATL Fall Season their wildcard spot will also be forfeited to the next in line.
Wildcard Qualifier Rules
40 Throws: Participants will be required to throw 40 throws. Which will be scored as 4 consecutive matches (10 throws per match) using standard WATL rules.
Tie scores will be decided by most Killshots, then by most Bullseyes, then most 4's and so on until a winner is placed above the other tied thrower.
Should throwers still be tied it will trigger an immediate standard WATL sudden death between the throwers.
In the event of a 3-way tie in such a scenario a 3-way sudden death will take place and will continue until any number of players miss the target, being eliminated in succession of distance from the Killshot.
The 10 competitors with the highest score 40 throws will be added to Saturday's World Championship.
The Top 10 will be asked to pay a $75 championship fee for entry into Saturday's World Championship Bracket.
World Axe Throwing Championship Apparel Guidelines
In addition to the
tournament code of conduct
, for this special event, we have an extra set of apparel guidelines that all competitors must follow.
Here is what is allowed, red is mandatory
A. Sponsors or blank
B. WATL Logo
C. Affiliate logo large in the middle or Sponsor Logo or both
D. Players Last Name (Or under special circumstances another name with written approval from WATL)
E. Affiliate Logo
F. Sponsor or blank
G. WATL Flag
H. Affiliate Country Flag 
Shirts must be a single color. White, black, or a color corresponding to the affiliate logo

Only a t-shirt is allowed

No garment will be worn over the t-shirt

All sponsors must be pre-approved, if a sponsor is not approved then they must be covered

If no jersey is worn you may also wear a WATL t0shirt as well which can be purchased here.
To submit sponsors visit this link.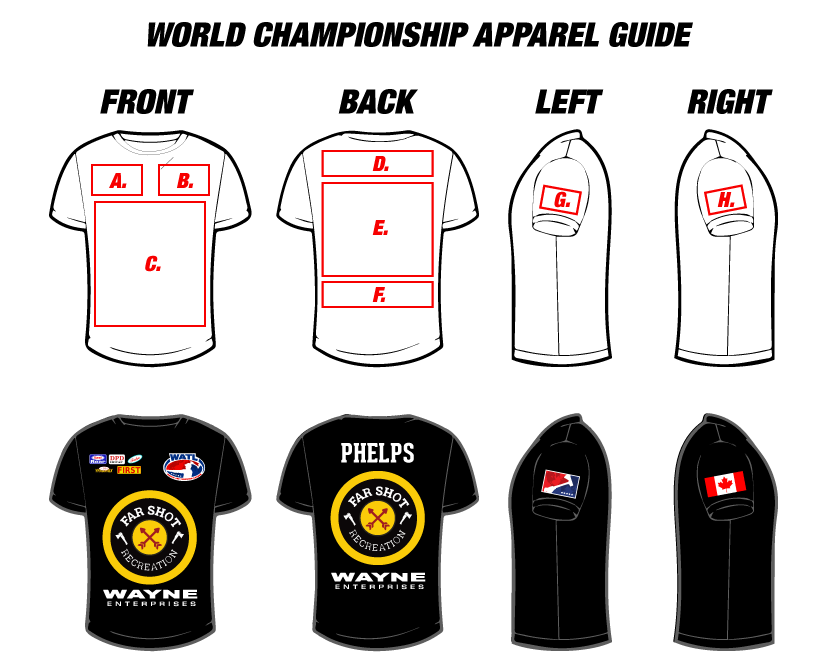 World Axe Throwing Championship Overview
Friday: Wildcard Qualifiers
6PM Check-In for Wildcard and Duals
8PM Wildcard Qualifiers & Championship Check-In
Wildcard Details
The wildcard will consist of 64 competitors

50 people selected via lottery draw

$50 wildcard fee due within 24 hours of drawing

14 people selected by the WATL council

Format: Wildcard competitors will throw 40 throws

Top 10 competitors advance to Saturday (WATL Championship Double Elimination Tournament)

$75 championship fee due ahead of tournament start on Saturday
Saturday: World Championship, Duals Tournament
9AM Championship Parade (Mandatory For Competitors)
9:30AM Final Check-In Window

ANY COMPETITORS NOT PRESENT BY 10AM WILL NOT PARTICIPATE IN THE WORLD AXE THROWING CHAMPIONSHIP

11AM Seeding Throws

40 Throws
Killshots Mandatory on throws 5 and 10

12:30PM Championship Tournament Start
4PM Duals Tournament Start
Championship Details
Championship Prizes:

1st – $15,000

2nd – $3,000

3rd – $1,500

4th – $500

Format: Best of 3 Double Elimination Tournament

48 Throwers made up from top 12 of each season
6 Throwers made up of winner's or secured placements from the following tournaments:

2018 World Championship – Benjamin Edgington
2019 Arnold Open Tournament – John Bradley
2019 Canadian Open Tournament – David Cycon
2019 ThrowDown Axe Festival – Mike Kump
2019 US Open Tournament – Sam Carter
Angrywood Open Tournament – Preston Shaw

10 From Wildcard qualifiers
Duals Details
For the first time Duals is headed to ESPN! Duals will be played down to the final Best of 1 match on Saturday night before being finished on the live broadcast Sunday afternoon.
Duals Prizes:
Entry Fee: $50
Players NOT competing in the Championship and Wildcard MAY enter

Players will be prioritized by Championship bids and then Wildcard bids
Once all the above have been accommodated remaining slots will be first come, first served

Format: Single Match Double Elimination tournament
Rule Change: Robin Hood is now allowed. Full points are earned.
Final Match to be broadcast on ESPN Sunday
Sunday: ESPN Top 6 Broadcast
1PM ESPN Broadcast of Top 6 and Duals Final