APRIL FOOLS!
We know everyone is already excited about all the new changes, and, due to the overwhelming positivity we've experienced in the community, we've decided to push another positive change out for THIS season.
Starting now, league runners will be able to select from a multitude of different divisions as they set up their leagues. Some of these leagues may not have full participation now, but we anticipate the most popular could even be featured matches on the next ESPN broadcast.
For those who have already input their league data, the app team is on standby to help transfer any already created leagues to the new divisional format, and throwers will be able to see individual leaderboards for all of the available divisions.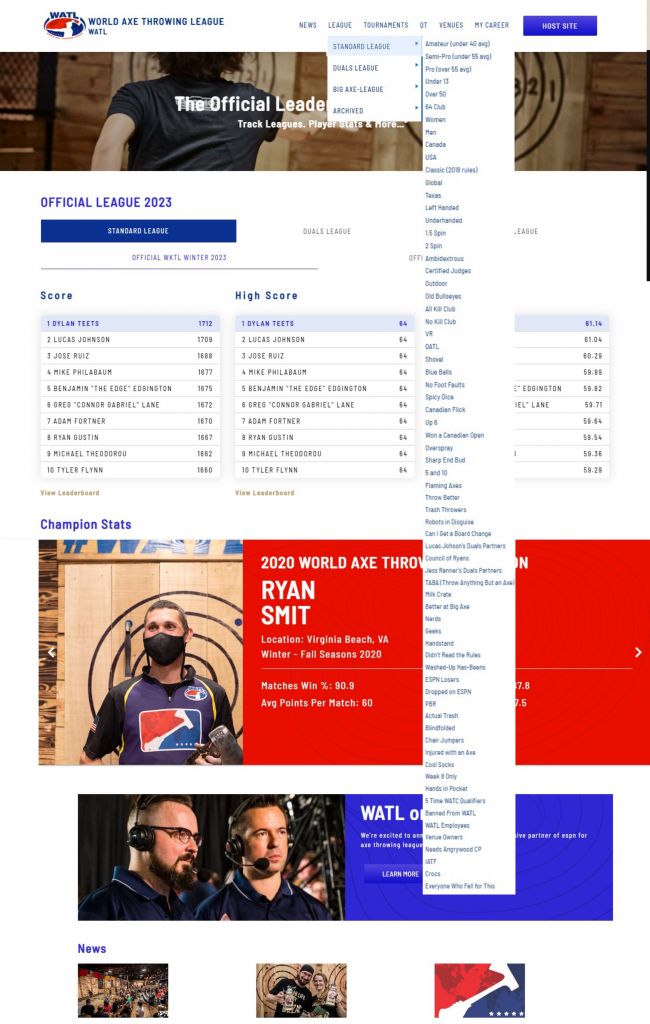 For now, these changes have only been turned on for hatchet leagues, and the app team has been working incredibly hard to get this ready for a full season ahead of the anticipated release. The big axe, duals, and knives divisions will still only be available starting in Summer, but for those interested in forming divisional leagues in hatchet, talk to you Spring league runners!
The minimum participation for each division is 4 throwers (and venues may run multiple divisions on one league night). Furthermore, divisional marathons will NOT count towards the 2-marathon maximum currently afforded to venues.
We will not have time to add to this list before Spring League, but you can find the whole list of divisions below. Any divisions you want to see added for summer? Get in the comments!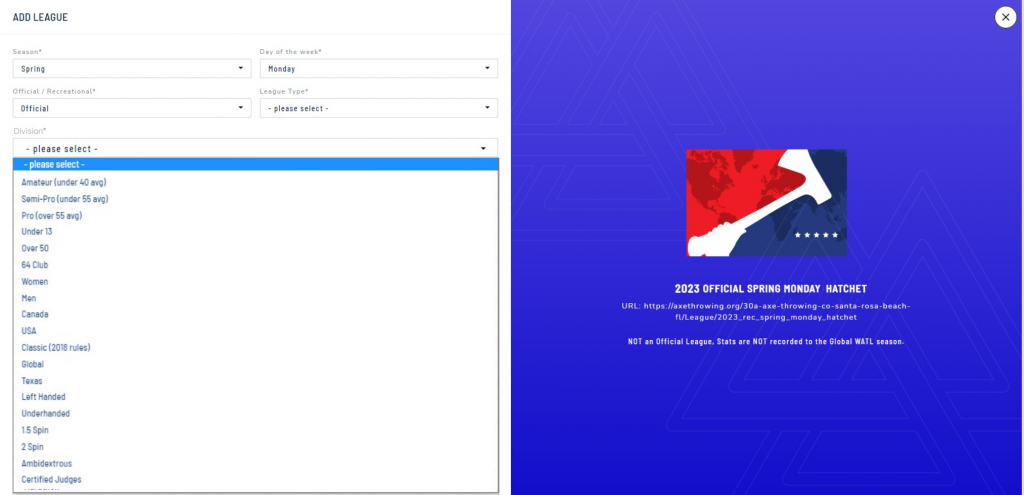 New WATL Divisions
Amateur (under 40 avg)
Semi-Pro (under 55 avg)
Pro (over 55 avg)
Under 13
Over 50
64 Club
Women
Men
Canada
USA
Classic (2018 rules)
Global
Texas
Left Handed
Underhanded
1.5 Spin
2 Spin
Ambidextrous
Certified Judges
Outdoor
Old Bullseyes
All Kill Club
No Kill Club
VR
QATL
Shovel
Blue Balls
No Foot Faults
Spicy Dice
Canadian Flick
Up 6
Won a Canadian Open
Overspray
Sharp End Bud
5 and 10
Flaming Axes
Throw Better
Trash Throwers
Robots in Disguise
Can I Get a Board Change
Lucas Johson's Duals Partners
Council of Ryans
Jess Renner's Duals Partners
TABA (Throw Anything But an Axe)
Milk Crate
Better at Big Axe
Nerds
Geeks
Handstand
Didn't Read the Rules
Washed-Up Has-Beens
ESPN Losers
Dropped on ESPN
PBR
Actual Trash
Blindfolded
Chair Jumpers
Injured with an Axe
Cool Socks
Week 8 Only
Hands in Pocket
5 Time WATC Qualifiers
Banned From WATL
WATL Employees
Venue Owners
Needs Angrywood CP
IATF
Crocs
Everyone Who Fell for This!
Get Exclusive Offers & Stay Up-To-Date
Sign-up today and never miss an update in the exciting world of axe throwing.