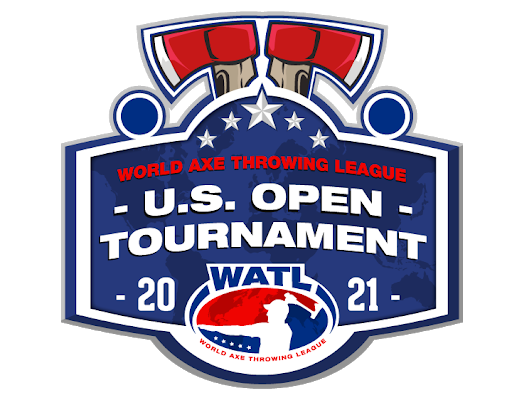 128+ Axe Throwers Compete for $25,000 in Prizes
The World Axe Throwing League is heading back to Bad Axe Throwing in Atlanta, GA! The venue features 11 lanes and over 12,000 square feet of space. The 2021 US Open is running from April 9th to 11th and will be featuring 128 Hatchet throwers, 64 Big Axe throwers and 64 Duals teams & 64 Knife Throwers.
Thursday, April 8th
12pm- Walk-Ins
Competitor Rate: $15/hr
(Walk-ins close at 11pm)
Friday, April 9th
11am- Walk-Ins
(Walk-ins close at 5:30 pm)
2pm- WKTL US Open Tournament Begins
4pm- Check in for Hatchets, Big Axe and Duals
6pm- Big Axe Tournament Begins
Saturday, April 10th
7am-8am- Final Check in Window
9am- Hatchet Tournament Begins
6pm- Duals Tournament Begins
Sunday, April 11th
2pm – US Open Championship on ESPN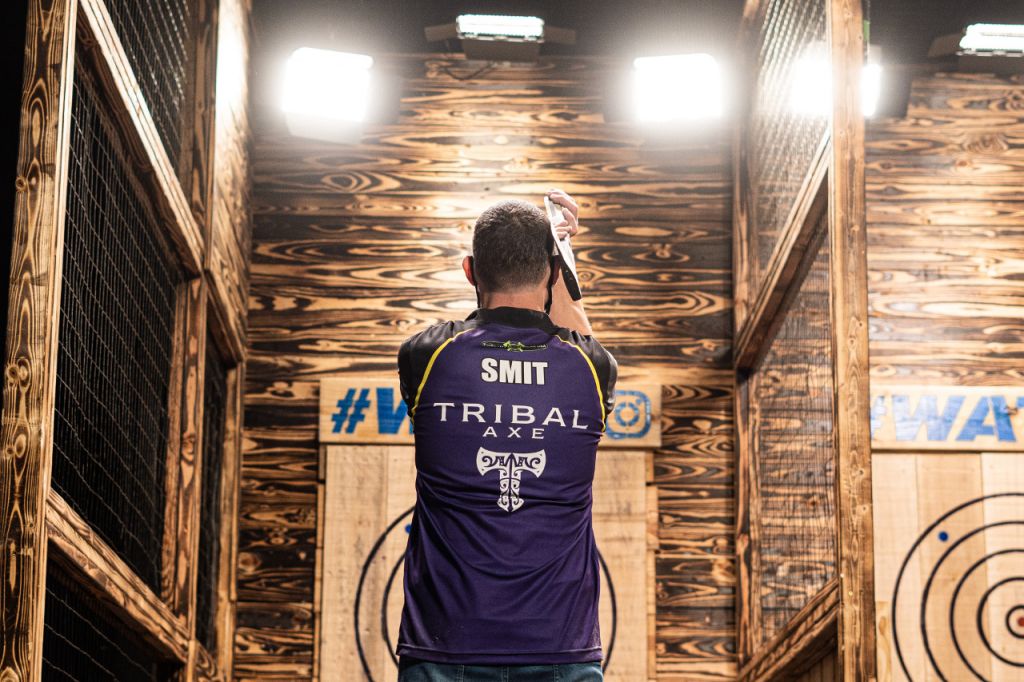 Now that we have more disciplines to show at the 2021 US Open, we've streamlined the tournament to give each discipline a proper spotlight, in-depth interviews and more insights, improving the overall broadcast. The new tournament format is as follows:
Hatchet will be divided into 4 separate double-elimination tournament brackets. The winner of each tournament bracket will make it on ESPN for single-elimination matches to determine the US Open Champion for the hatchet discipline.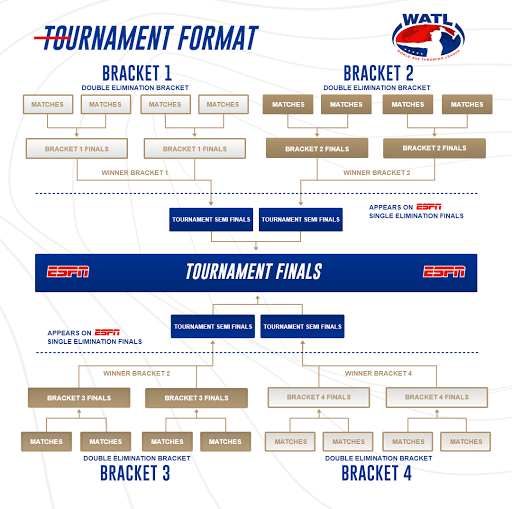 Big Axe, Duals and the WKTL will be split into two double-elimination tournament brackets. The winner of each bracket will appear on ESPN for a single-elimination match to determine the US Open Champion for that discipline.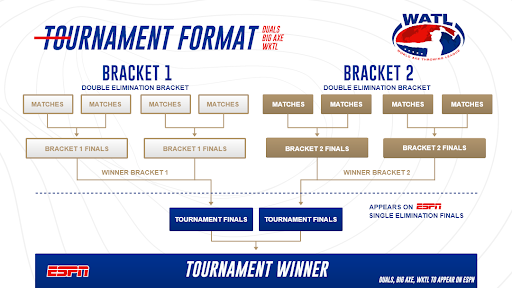 2021 US Open Prize Pool
Standard Hatchet
Big Axe
Duals

WKTL

1st

$4000

$1000

$1750

$1000

2nd
$2,750
$800
$1,300
$500
3rd-4th
(tied for 3rd)
$1,000
$500
$700
$400
5th-8th
(tied for 5th)
$325
$250
$300
$175
9th-12th
(tied for 9th)
$175
$150
$100
13th-16th
(tied for 13th)
$125
$75

World Knife Throwing League At The WATL 2021 US OPEN
Any World Axe Throwing League Member will be eligible for entry tickets to participate in WKTL at the US Open. Tickets will be available on the WKTL website on March 1st at 3pm. There will be 64 available entries and tickets will be first come, first serve basis.
Please visit the WKTL website for more information on the knife throwing league US Open, please check out the tournament website.
Timeline for Entries for the US Open:
February 25th: Lottery Draw
March 1st: Lottery Bids Must Be Accepted by 5 PM EST
March 10th: All Entries are Confirmed and Entries are Uploaded to the Website
Hatchet
Dyllan Uehlin
Ryan Smit
Mike Kump
Nick Rich
Sam Carter
Garrett Gneiting
Jonathan Morgan
Steven Messerschmidt
Miguel Tamburini
John Bradley
Vin Crescenzo
Colby Dean
Dan Ceballos
Ian Malpass
Shane Shepard
Mike Philabaum
Benjamin Gaddy
Jules Mondeau
Orion Sickels
Brandon Schell
Scott Biddle
Tyler Lalka
Shawn Carpenter
Lucas Johnson
Nate Hodges
Daniel Murray
Donk Moses
Joshua Russo
David Cycon
Ryan Gustin
Michael Barton
Michael Theodorou
Riley Dean
Scott Phillips
Nick Guthrie
Anna Obrecht
Travis Blank
Steffan Swart
Kyle "Maverick" Bower
Gregg "The Warden" Ward
Alexander Spurdens
Ron Crumpler
Dave Alviso
Will Gelatko
Michael Dolan
Tyler Flynn
Kyle Rickenbaugh
Michael Harris
Dustin Wellman
Jeff Morford
Tim Coyle
Corben Decker
Jay Bryant
Reid Welsh
Kevin Green
Mark Mirasol
Zach "Zeus" Crawford
Manny Kohl
David Kulikowski
Ronnie Patterson
Aaron Barrett
Jeff Schick
Gary Dragon Dayter
Logan Dean
Brandon Palmer
Kathleen Wiley
Chris Senior
Jason Yelm
Robert Young
Austin Luecke
Daniel Basic
Marshall Martin
Brady Trulove
Sean Rameika
Jeb "Swashbuckler" Bisset
JT AxeCop
James Waldrop
Jeffrey Cope
Brett Williamson
Anthony "BeardGang" Szymkowiak
Marcus Brown
Mike Coombs
Mac Stoughton
Bryce Lott
Stephen Marshburn
Scott Christensen
Tim McKenzie
Ty Ledesma
Matt Bradshaw
Jeff Melton
Matt Smith
Branon Pate
Hayden Brown
Fynnlan Ridge
Jesse Merritt
Charles Green
Kristyn Muller
John Doepke
Nicholas DiCredico Iii
Connor Willett
Andy Rice
JB Singleton
Dwayne Salmon
Jason Caldwell
Nick Doane
Michael Nanney
John Morton
Vail Cook
Matt Seman
Dustin "Perplebunny" Kerr
Jared Seiders
Brennan Wozniak
Matt Roper
Jonathan Allen
Nicole Guite
Steven Malvey
Jesse Dales
Dean Cooper
Seth Catron
Dale Fowler
Steve Middleton
Jarret Flint
Kacey Jennings
"David " Gann
John Grocke
Pete Belanger
Big Axe
Zach Crawford
Jonathan Morgan
Marcus Brown
Vin Crescenzo
Corben Decker
Manny Kohl
Dustin Kerr
Vail Cook
Jave Yoshimoto
Davin Heilich
Dustin Wellman
Travis Blank
Joshua Russo
Nate Hodges
Chet Hernandez
Alexander Spurdens
Mike Kump
Ronnie Patterson
JT Malashevich
Shane Shepard
Tyler Flynn
John Doepke
Mark Mirasol
Daniel Murray
JT AxeCop
Dave Alviso
Austin Luecke
Jeb "Swashbuckler" Bisset
Michael Dolan
David Kulikowski
Charles (Cj) Green
Alex Martin
Mikel Philabaum
Nicholas DiCredico Iii
Lucas Johnson
Ryan "Gimli" Gibson
Gregg "The Warden" Ward
Sam Carter
Will Gelatko
Rachel House
Jason Yelm
Ian Malpass
Steven Malvey
Ryan Gustin
Ron Crumpler
Ben Paultre
Chris Senior
Eric "Famous" Enriquez
Jesse Merritt
Jonny Tran
Bret Hartman
Jeffrey Cope
Kyle Rickenbaugh
TJ Schultz
David Gann
Riley Dean
Ryan Chilson
Matt Smith
Matt Muti
Patrick Scott
Scott Phillips
Brandon Schell
Duals
Lucas Johnson / Hayden Brown Crocblockers
Joshua Russo / Zach Crawford Valkyrian Steel
Mark Mirasol / Gary Dayter Ditching for the Win
Jay Sun / Jon Morgan Herbisaurus Rex
Chet Hernandez / Ian Malpass Daddy Long Stroke
Jesse Merrit / Mac Stoughton Big Mac & Special Sauce
Josh Stienman / Shaun Thrush Ginger Snaps
Thaddius Shipley / Wesley Powell This is the Way
Tyler Lalka / Maggie Miker Rolling Hills
James Waldrop / Brady Trulove 2 DUDES
Nick Guthrie / Ryan Chilson 2 Dudes 1 Bull
Matt Muti / John Varvaro 2Drunk4This
Ronnie Patterson / David Gann Axe Mafia
Jeff Morford / Tim Coyle Back That Axe Up ATS
Dustin Wellman / Leslie Wellman Beers Before 8
Brian Rogers / Brodi Pursley Boonhawk Saints
Michael Dolan / Vall Cook Butcher Babes
Sebastian Novoa / Lane Corson Car Ramrod
Kyle Bower / Ashley Bower Clappin' Cheeks
Jeb Bisset / Alex Martin Friends Without Benefits
Nick Rich / Ron Crumpler Hati & Skoll
Manny Kohl / Anna Obrecht His Beard Her Axe
Steve Middleton / Kyle Rickenbaugh Hoosier Daddy
John Doepke / Shane Shepard Shepke
Gregg Ward / Michael Engstrom Minutemen
Tim Fry / Donk Moses No Room for Bacon
Vin Crescenzo / David Cycon One Eyed Dumpster
Dustin Kerr / Austin Luecke Perple Lightning
Allison Blank / Travis Blank Princess and the Wookie
Dan Ceballos / Mikel Philabaum Second Breakfast
Corben Decker / Sam Carter SlothGhost
Michael Harris / JB Singleton Split yah momma
TJ Schultz / Tyler Schultz T&T
Scott Phillips / Riley Dean The goonies
Colby Dean / Micheal Theodorou The Kingsmen
Branon Pate / Jeff Melton Twisted Ts
Will Gelatko / Mike Kump Uncle Kump
Jorge Sanchez / Brian Husband Wide Set Heavy Flow
Randall Spillman / Catherine Kerenyl Tegrity axes by 40 whacks
Arron Brueske / Ken LaBrusciano The Giant Vikings
Benjamin Fowler / Matt Smith Main Street Mafia
Ernest Redmon / Le Tate Try Hards
Kacey Jennings / Trent Clines BULL BUSTERZ
JT AxeCop / Ant Man 9.5+6
Dan Brynlidsen / Erika Brynlidsen Beauty and the Beast
Jeremy Hobson / Dustin Spires Great Axe-Pectations
Ryan Gustin / Dave Alviso Keystone Killazz
Aaron Barrett / Logan Dean Suicide Squad
Aaron Rasor / Ryan Gibson Thor losers
Brent Taylor / Jim Ray Driftwood
Nick Doane / Amy Doane 40 whacks
Dwayne Salmon / Scotty Scott To Be Determined
Ty Ledesma / Erica Ledesma Don't Cross Streams
Johnny Tran / Jason Yelm Cronic Axeterbators
Austin Lueke / Brad Crosby Axe Revival
Lee Hengescht / Shastina Smith Electric Bunnies
Hannah Taylor / Jenny Harris Team RBF
Samson Moore / Michael Barton Hurling Honkeys
Matthew Rowe / Thomas Williamson Party Rowe
Pete Herron / Mat Ball Short Circuit
Sam Smith / Reid Welsh Sweatbands & Vans
Abel Slinker / Nicole Slinker Tappin' Dat Axe
Brennan Wozniak / Stacy Christiansen Steel Penguin
Jerseys
WATL jerseys are required for the US Open and you can find information on them and purchase here. Should you like to submit a sponsor for your jersey please see the guidelines and submission form here.
Hotel Information
Courtyard Atlanta Downtown
Price: from 119 USD per night for attendees of the US Open.
The last day to book a room is Friday, March 26, 2021.
Hyatt Place Atlanta / Centennial Park
Price: from 129 USD per night for attendees of the US Open.
We will continue to release more information in the coming weeks on spectators, precautions and other general information about the tournament. As always check out The World Axe Throwing League on Instagram and Facebook or join our Facebook Group for awesome discussion, posts and community stories!
Get Exclusive Offers & Stay Up-To-Date
Sign-up today and never miss an update in the exciting world of axe throwing.