We are excited to announce the WATC Bid Winners from the 2023 Winter League season, and to welcome the group of WATL Pros who qualified through their Winter season and will compete for WATC bids in their Spring League.
Congratulations to everyone listed – the skill level continues to grow – and earning your place as a Pro, or earning your Bid, continues to get tougher and tougher!
2023 Winter Pro League Bid Winners
Adam Fortner
Colby Dean
Dalton Wilson
Dan Brynildsen
Daniel Abarca
Darin Bartholomew
Drew Moss
Dustin Knight
Garrett Gneiting
Greg Lane
John Doepke
Jorge Sanchez
Jose Ruiz
Kyle Rickenbaugh
Lucas Johnson
Mark Tishko
Michael Theodorou
Mike Philabaum
Nick Kolomyja
Noah Vargas
Ronnie Patterson
Ryan Gustin
Tyler Flynn
Vail Cook
2023 Spring Pro League
Adam Fortner
AJ Wilson
Ant Man
Austin Luecke
Ben Parker
Benjamin Edgington
Billy Shaffer
Braeden Farmer
Brandon Elliott
Brandon Johnson
Brandon Schell
Brett Williamson
Bryan Cox
Cheerio
Chris D'Onofrio
Chris Kendig
Colby Dean
Coleman Bates
Colton Askew
Connor Gabriel
Dalton Wilson
Damon Latham
Dan Brynildsen
Dan Ceballos
Daniel Abarca
Darin Bartholomew
Dave Alviso
David Abernathy
David Carroll
David Cline
David Corley
David Gann
David Lewis
Dorian Mirasola
Drew Moss
Dustin Kerr
Dustin Knight
Dustin Wellman
Dylan Teets
Eitan Goldmeer
Garret Hennigan
Garrett Gneiting
Garrett Rice
Gary Dragon Dayter
Glenn Eddleman
Greg Lane
Gregg Ward
Hayden Brown
Ian Malpass
Jamie Hein
Jeb Bisset
Jeff Cope
Jeff Schick
Jeremy Hanna
Jimmy Garrey
Jimmy Grindle
Joe Devine
John Bradley
John Doepke
Jon Allen
Jonathan Merida
Jonathan Morgan
Jorge Sanchez
Jose Ruiz
Josh Eggert
Josh Kramber
Joshua Russo
JT AxeCop
JT Malashevich
Justin Reese
Kevin Green
Kyle Duff
Kyle Durrant
Kyle Rickenbaugh
Kyle Speelman
Lucas Johnson
Mark Mirasol
Mark Tishko
Mat Ball
Matt Boles
Matt Bradshaw
Matt Kosin
Matthew Pelletier
Michael Barton
Michael Dolan
Michael Engstrom
Michael Moss
Michael Theodorou
Mike Kump
Mike Philabaum
MikeTitus
Nate Hodges
Neil Rust
Nick Doane
Nick Kolomyja
Noah Vargas
Pete Belanger
Reid Welsh
Ronnie Patterson
Ryan Gustin
Ryan O'donnell
Ryan Perrion
Sam Carter
Scott Biddle
Sean Beamish
Sean Hout
Sean Rameika
Sebastian Arnold
Shane Funke
Shaun Daniels
Steffan Swart
Stephen Neal
Stephen Thorgerson
Steve Middleton
Suzanne Bassett
Tim Coyle
Tim Haggard
Tim Valliere
Tom Decker
Tony Luce
Travis Blank
Tyler Flynn
Tyler Lalka
Tyler Pantle
Vail Cook
Victor Ahluwalia
Vin Crescenzo
Will Gelatko
Zach Crawford
Zach Strobis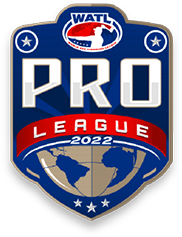 The World Axe Throwing Professional League (WATL Pro League) is a qualifying system that helps to recognize the top competitors in the sport of axe throwing for standard hatchet competition.
2023 Spring Pro League is comprised of the top 128 qualifying competitors* from the 2023 Winter League standard hatchet competitors.
Each season, the top 24 WATC Pros (by leaderboard position) will be awarded a bid to WATC VII, held in 2024.
To earn a WATC bid:
Pro Bid Winners must have thrown at least 50% kill attempts (28) in their qualifying league. Bids trickle down if there are already bid holders to the top 24 finishers.
*See Section T: Pro League of the Official Rules for more information.
Get Exclusive Offers & Stay Up-To-Date
Sign-up today and never miss an update in the exciting world of axe throwing.