With the growing popularity of axe throwing, we are happy to announce that Bury the Hatchet is expanding into bigger and badder axe throwing hot spots. With this trendy new sport taking off, Bury the Hatchet now has 4 new locations coming to accommodate the growing axe throwing demand.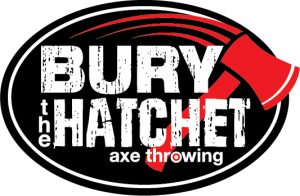 Here's all the new locations coming your way!
Philadelphia, PA opening Jan. 15th
1719 Washington Avenue, 2nd Floor
Philadelphia, PA 19146
(Just above Good Shepard Day Care, across from Auto Zone)
Ph. 215-438-7999
Matawan / Old Bridge, NJ opening Jan. 20th
419 Route 34 Matawan, NJ 0774
(Former home to Marty's Shoes ) in the Market Place
Ph. 732-962-6284
Also coming soon dates and addresses TBA
Sandy Springs, GA and Bloomfield, NJ!
Don't worry everyone in Cherry Hill, NJ! The original location is staying right where it is so you don't have to go looking for a new axe throwing location.
We were lucky enough to have 4 competitors from Bury the Hatchet compete in the first ever World Axe Throwing Championship Whether your new, slightly hesitant or want to show off your skills, Bury the Hatchet will show you how to throw an axe and ensure you leave with some awesome memories. Their coaches will help guide, support and encourage that inner Lumber Warrior to step up. We are thrilled to have such awesome members compete and be a part of the WATL family!
Be sure to check out their social media as well for more updates!
Facebook: https://www.facebook.com/BuryTheHatchetNJ/
Instagram: https://www.instagram.com/burythehatchetch/
Twitter: https://twitter.com/BuryHatchetNJ